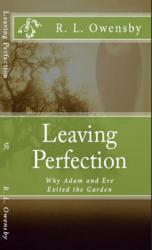 So Much Wisdom in One Book
Virginia (PRWEB) January 03, 2013
Finally, a book has been authored discussing the value of choices and how making the wrong ones can easily change one's life. Aspiring author R.L. Owensby's new book 'Leaving Perfection' takes readers through an insightful journey helping them rediscover the value of making the right choice. Interestingly, Owensby is a talented author from Raydome Publishing Company who is a firm believer of the power of information between the covers of a book. 'Leaving Perfection' is the result of repeated encouragement from his family, friends and students and has already received stellar feedback from critics. Some have even proclaimed it as one of the 'top ten books to read'. The physical and digital versions of 'Leaving Perfection' are now available on Amazon.
Decisions and choices are integral parts of life, and everyone faces numerous choices and has to make hundreds of decisions daily. The present is determined by decisions made in the past. Likewise, what a person chooses to do today has a direct influence on his or her future. In spite of that, people continue to make decisions that are too costly to afford at times. Owensby suggests that lives of common men around the world are in poor shape due to poor decision making. According to Owensby, the poor choices made by some of the top leaders are to be blamed for the chaotic social condition that now prevails throughout the world from a spiraling economy to broken homes that are producing young adults launched into the real world who are incapable of adding good to the society. It is a result of poor choices and even poorer decisions.
"Should be one of the top ten books for anyone who is trying to make better choices in life" Tim P.
Owensby has often been asked "Why Adam and Eve? Why did he not use another example to talk about difficult choices and poor decision-making?" His answer is always the same. He says "If you ever wonder why things are the way that they are, why conditions are unfavorable, or why you are now stuck with the life you "didn't" dream of, you must look at your yesterdays not your today's. In other words, you have to trace the issues back to the beginning. There you will find the seed that produced the fruit you are holding- a broken life." For Adam and Eve, the seed to their troubled life started in the Garden or better yet, the 'Genesis', which is known as the Book of Beginnings.
'Leaving Perfection' aims at enlightening people to help them make the correct choices at crucial junctures of life, and suggests what to do when wrong decisions have been made. Owensby's lucid style and insightful analyses have already received excellent response from reviewers. Noted follower of inspirational books, Teresa M., says "If you ever wondered what really took place in the Garden of Eden, why Adam and Eve decided to do what they did and, in turn, why God did what He did- you must get this book. It is an eye-opener." Another reader, Paula X. says "Leaving Perfection outlines, from start (the Creation) to finish (the banishment from the Garden of Eden) what exactly happened, the choices made and why…and why a loving God had no choice but act in the way that He did. This book is a thought-provoking, eye-opening book that shows how everything can be perfect in your life one day and how things can be upside down the next. The reason? Choices and decisions. This is definitely one of the top ten books you must read in 2013. Get it Today.
About the Author: R. L. Owensby, Sr. lives in Virginia with his wife and two kids. He loves to teach and inspire. His goal in life is to eliminate ignorance and empower people to live fully, and then live some more.
About Raydome Publishing: Raydome Publishing is a company that prides itself in releasing motivational, inspirational and self help books geared towards informing and transforming those who are tired of mediocrity who wish to live their best life starting today!
Other books by Raydome Publishing:
1. Driftwood For Those Who May Have "Drifted" From Their Dreams.
2. 7 Days (In the Life of a Woman) "Because To A Woman Seven Days Is A Lifetime."