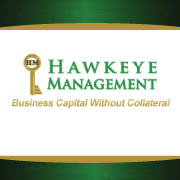 Top 25 Twitter Small Business Experts to Follow
Blackwood, NJ (PRWEB) January 21, 2013
Hawkeye Management decided to kick off 2013 with an explosion of resources for small business owners with the Top 25 Twitter Small Business Experts to Follow. Hawkeye Management specializes in small business loans and providing working capital for small business owners and has been inspired by many leaders across a wide range of industries. It would be fair to say that Hawkeye Management would not have been named to the Future 50 group by Smart CEO magazine if it weren't for the influence of many of these amazing leaders.
Here's a quick look at 4 of the thought leaders recognized in the article:
@dharmesh Dharmesh Shah - Founder and CTO of HubSpot and developer of twitter.grader.com.
@Rieva Rieva Lesonski - CEO GrowBiz Media & SmallBizDaily.com. Small business advocate, journalist, best-selling author. Former editorial director of Entrepreneur magazine.
@smallbiztrends Anita Campbell - Forbes Top Influential Woman for Entrepreneurs and Small Business Trends CEO.
@Garyvee Gary Vaynerchuk - New York Times and Wall Street Journal Best-Selling author who is all about passion. Don't miss a chance to see him live.
Read the full article here.
These 25 thought leaders whose insight with quality and helpful small business content help inspire Hawkeye Management.
Hawkeye Management connects entrepreneurs and small business owners with up to $50,000-$150,000 or more in freely spendable business credit lines. Hawkeye Management understands the mechanics and realities of small business credit better than anyone. Hawkeye Management knows what works, what doesn't work, and how small businesses can get the credit it needs as quickly as possible.
# # #