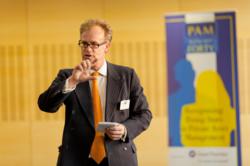 It is really exciting to be a part of recognising and rewarding excellence in the Private Client Asset Management industry
London (PRWEB UK) 23 April 2013
On 8 April, 2013, Wendy Marston Events organised a successful champagne reception for PAM's Top 40 Under 40.
The PAM Top 40 Under 40 initiative identifies, recognises, introduces and promotes the rising stars of the private client asset management world both in the UK and UK offshore. The champagne reception, held at Grant Thornton's Finsbury Square offices in London, included guests from the leading UK and UK offshore Private Asset Management companies, including winners Close Brother Asset Management, Coutts, Kleinwort Benson and RBC Wealth Management, as well as members of the PAM Awards Judging Panel and winners of the Private Client Practitioner's Top 35 Under 35.
Wendy Marston Events is a specialist event planner, focusing on the organisation of awards programmes and their associated receptions, dinners and meetings, from small roundtable breakfast meetings to gala award dinners. Wendy Marston, founder and director, has been managing the PAM Awards for PAM Insight, the company behind the PAM and Private Client Practitioner initiatives, for over 10 years.
"It is really exciting to be a part of recognising and rewarding excellence in the Private Client Asset Management industry, something that we are heavily involved in with the PAM Awards, and it is great to be able to further bolster this through the promotion of those individuals who are working towards improving trust, transparency and a better client experience," says Wendy Marston, founder and director.
Sponsor Grant Thornton kindly hosted the reception, in their impressive offices at Finsbury Square, and provided catering, serving Grain Mustard Cocktail Cumberland Sausages. Chicken & Basil Sundried Tomato Tart, Duck & Onion Compote with Sesame Seeds, Teriyaki Salmon Skewer, Thai Fishcake with Chilli Dipping Sauce, King Prawn with Tomato on Pain de Mie, Tandoori Vegetable Kebab and Spring Rolls. The champagne was Louis Roederer Brut NV. Photographs were taken by Simon Hargrave. Plaques produced by Awarded2U were handed out to the winners, following brief speeches by Ed Hicks, the managing director of PAM Insight and Eric Williams of Grant Thornton. The initiative was also supported by Risk Assured.
Companies interested in improving the return on their events and awards programmes can contact Wendy Marston at Wendy Marston Events.