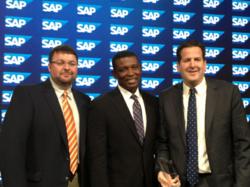 We are dedicated to SAP's strategy and to being the 'go-to' partner for delivering the SAP BusinessObjects Portfolio, solutions for EIM and SAP HANA software.
ATLANTA, GA (PRWEB) January 30, 2013
Decision First Technologies (DFT) today announced it is the recipient of the SAP® North America Partner Excellence Award 2013: Top Channel Partner – Analytics, Database and Technology. Awards were presented by SAP Americas (NYSE: SAP) during the SAP North America Field Kick-Off Meeting (FKOM) 2013, held Jan. 22-24 in Las Vegas, to the top-performing SAP channel partners and SAP services partners in North America for outstanding contributions that impact overall SAP sales and pipeline-generation goals.
"We are very proud to be selected as SAP's top channel partner for analytics, database and technology. More importantly, we have the notoriety of being the recipient of multiple prestigious awards from SAP and/or Business Objects, putting an exclamation point on our commitment to excellence," said Taylor Courtnay, co-founder and vice-president of Sales for DFT. "We are dedicated to SAP's strategy and to being a leading 'go-to' partner for delivering the SAP BusinessObjects™ portfolio, SAP solutions for enterprise information management (EIM) and SAP HANA® software."
Selected from SAP's wide-ranging North American partner base, nominations for the SAP Regional Partner Excellence Awards were based on internal SAP sales data. A steering committee composed of regional and global SAP representatives determined winning partners in each category according to numerous criteria such as sales achievement and performance. As the recipient of the 2013 SAP North America Partner Excellence Award: Top Channel Partner – Analytics, Database and Technology, DFT has been honored as a leading partner in helping customers better understand, analyze and even predict what's occurring in their company so they can make more informed decisions, faster. Winners will receive strong recognition from the SAP field for their accomplishments.
Decision First Technologies received the award during the SAP North America FKOM 2013, an annual gathering of SAP executives, SAP field employees and partners. FKOM is SAP's largest yearly sales meeting, intended to drive success during the upcoming year. Colleagues across the region gather to gain and exchange updated information on SAP's strategy, sales methodology, best practices, business growth opportunities and product innovations. This year's North America FKOM hosted more than 5,000 attendees from the U.S. and Canada.
"A thriving partner ecosystem is central to SAP's success, and partners like DFT are key drivers for our customers' success and for SAP's market reach," said Mark Milford, national vice president, North America Ecosystem Group, SAP America, Inc. "As a recipient of a 2013 SAP Regional Partner Excellence Award, we recognize DFT's commitment and efforts in developing and growing its partnership with SAP, which has led to game-changing co-innovation and market expansion."
About Decision First Technologies
Decision First Technologies is an Atlanta-based software provider and professional services company specializing in delivering end-to-end business intelligence solutions to its customers. An SAP gold channel partner, DFT resells and offers certified consulting, training and technical support for SAP BusinessObjects and enterprise information management (EIM) solutions. With over 10 years of experience, DFT has helped hundreds of companies make better business decisions, dramatically reducing costs, increasing revenues and boosting profits. For more information on Decision First, visit http://www.decisionfirst.com/
Follow us on:
http://twitter.com/decisionfirst
SAP, SAP HANA and all SAP logos are trademarks or registered trademarks of SAP AG in Germany and in several other countries all over the world.
Business Objects, BusinessObjects and the Business Objects logo are trademarks or registered trademarks of Business Objects in the United States and/or other countries. Business Objects is an SAP company.
All other product and service names mentioned are the trademarks of their respective companies.
SAP Forward-looking Statement
Any statements contained in this document that are not historical facts are forward-looking statements as defined in the U.S. Private Securities Litigation Reform Act of 1995. Words such as "anticipate," "believe," "estimate," "expect," "forecast," "intend," "may," "plan," "project," "predict," "should" and "will" and similar expressions as they relate to SAP are intended to identify such forward-looking statements. SAP undertakes no obligation to publicly update or revise any forward-looking statements. All forward-looking statements are subject to various risks and uncertainties that could cause actual results to differ materially from expectations The factors that could affect SAP's future financial results are discussed more fully in SAP's filings with the U.S. Securities and Exchange Commission ("SEC"), including SAP's most recent Annual Report on Form 20-F filed with the SEC. Readers are cautioned not to place undue reliance on these forward-looking statements, which speak only as of their dates.