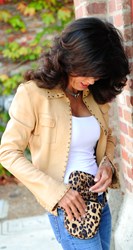 Hands free.
Henderson, NV (PRWEB) October 28, 2013
The strict TSA rules at airports across the county allow for one carry-on bag and one purse or small travel bag. The Hipzbag® does not count as a bag but it counts as one of life's little blessings. Lining up through airport security, setting down bags to fumble and search through them to get to a wallet, ID and boarding pass can be a hassle and may leave a person holding up the line and aggravating fellow travelers. "Having your Hipzbag® cellphone accessory bag with your essentials easily accessible at your side makes passing through security a breeze," says Hipzbag® employee Amber Landeen, who recently went on a trip. Amber was stopped by a TSA officer, impressed by the stylish little bag and asked where she could get one for herself and recommend them to other travelers. Cellphone, ID, bag and purse theft are always a concern in airports, especially when traveling during the busiest time of the year. Hipzbag® solves this problem simply, with its patent pending swivel hooks that attach the bag directly onto belt-loops. No belt-loops you say? Not a problem, every Hipzbag® comes with a matching waist strap which also provides that added security that your cellphone and essentials are safe, secure and easily accessible. The excitement of reuniting with family and friends for Thanksgiving and Christmas should not be dampened by a worrisome travel experience, and Hipzbag® eases some of those concerns. Enjoy turkey, hands free.
About Hipzbag®
Designed to ride on your hip, by attaching to belt loops or with a thin waist strap, Hipzbag® features a zippered compartment in front, perfect for carrying money, keys, iPod, cell phone, lipstick, etc. An open back pocket rests against your hip, fitting your phone snug, while allowing for easy access and ability to feel your phone vibrate so you never miss a call. The target market is very broad: cellphone lovers, travelers, event goers, golfers, dog walkers, hikers, bikers, casino goers, college students, people on the go or anyone who wants their hands free while keeping their cellphone and essentials attached. Hipzbag® comes in different sizes, shapes and colors with lines for both men and women.
Creator, Kathy Crifasi, computer nerd by trade, created the Hipzbag® purely out of necessity. Walking around holding her cellphone, wanting it to be attached to her body—Kathy could not find a solution, so she designed one! Hipzbag® is a product of Hip Shift Corp, a company bringing to market functional fashion products.