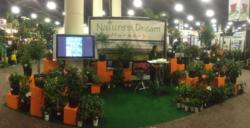 Spring 2013 tropical plant sales are expected to be the stronger than those of the last 5 years at Nature's Dream Nursery - Miami, FL
Miami, FL (PRWEB) January 31, 2013
With a couple months to start shipping to out-of-state garden centers and plant re-wholesalers, Nature's Dream Nursery has seen a 22% increase in pre-booked orders received. Ray Rueda, manager of Nature's Dream, stated that they have orders for approximately 70% of their total sales target for the season. There is an increased business from its usual customers and new orders coming from Canada, signaling a optimism in the industry.
Nature's Dream is offering a great variety of hibiscus - including some new additions like "Church yellow", mandevillas, dipladenias, jasmines, durantas, bananas, foliage and a more.
The company celebrates its 9th year in business with continuous innovations such as QR labels that, starting this spring, enable consumers to check plant data and care instructions. All purchasers of tropical plants are encourage to place their bookings ahead of time to guarantee plant availability at shipping. Some varieties of mandevillas and jasmines are now sold out.