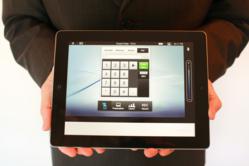 "We are humbled by how quickly vControl® has been adopted worldwide, and it is an indication of the importance and prevalence of video technology use" - Alfredo Ramirez, President and CEO of Vyopta
Austin, Texas (PRWEB) January 30, 2013
Vyopta Incorporated, a pioneer developer of applications for business video announced today that vControl® Touch for the iPad has rapidly garnered worldwide adoption. In just three months, vControl® Touch has been downloaded in over 60 countries worldwide by over 400 organizations.
Applicable in any vertical that uses video communications, vControl® Touch is designed for easy adoption with a simple, effective centralized management for video network administrators. Vyopta's vControl® Touch provides users of Cisco Telepresence endpoints with a familiar, intuitive interface that is available on the iPad. Using a mobile platform helps satisfy the demands of workforces adopting the "Bring Your Own Device" strategy.
"We are humbled by how quickly vControl® has been adopted worldwide, and it is an indication of the importance and prevalence of video technology use," said Alfredo Ramirez, President and CEO of Vyopta. "We will continue to enhance the capabilities of vControl® to support more video endpoints over time to further improve the video communication experience for end users."
As with all Vyopta products, vControl® Touch can integrate with Vyopta's vAnalytics™ and vPublish™ applications to enable organizations to extract significantly more value from their video investment.
About Vyopta Incorporated
Vyopta is a pioneer developer of applications for Cisco business video. Vyopta adapts video to business processes, delivering high-quality customer service, process automation and business intelligence. Vyopta's solutions unleash the potential of business video investments, resulting in improved educator and student performance and outcomes, enhanced customer satisfaction and retention, increased sales and cost savings and greater agility in meeting continually changing business demands. For more information on Vyopta and its products, visit http://www.vyopta.com.