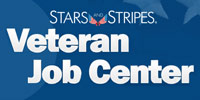 Veteran Job Center addresses security clearances, offers a tool for translating military specialties (MOS) into civilian job skills, and supplies guidance on diverse topics.
Washington, DC (PRWEB) May 22, 2013
Stars and Stripes announces the launch of a full-featured Veteran Job Center site for retiring and veteran military powered by Transition Assistance Online (TAO), a leader in providing transitioning military with career assistance, that permits resume postings and job search at no charge to employment seekers and features opportunities from prominent business leaders actively seeking to employ former members of the U.S. military.
The new employment site (veteranjobs.stripes.com) provides a dedicated resource that permits transitioning military users to register and post resumes at no cost. The site also provides information on security clearances, offers an excellent tool for translating military specialties (MOS) into civilian job skills, and supplies guidance on diverse topics, from financial and career planning to tips on resume writing and interview tactics.
For employers, the site delivers a unique opportunity to reach the qualified candidates they seek through Stars and Stripes. Veteranjobs.stripes.com provides broad exposure to the military community, reaching not only those residing in the United States, but also those transitioning from the European and Pacific theaters, as well as service members serving downrange.
Employers interested in posting jobs or advertising may contact Doug Dougherty, email: dougherty.doug(at)stripes(dot)com, 202-761-0776.
------------------------------
About Stars and Stripes
Stars and Stripes reports on military matters to the global U.S. military community. It is the only independent source for news and information operating from inside the U.S. Department of Defense. Editorially independent of any outside interference and influence, Stars and Stripes provides commercially available U.S. and world news and objective, factual staff-produced stories relevant to the military community it serves.
In addition to providing news in print, Stars and Stripes offers its unique reporting on stripes.com, through its Tablet Edition app and smartphone apps for iPhone and Android, and through subscription to free email newsletters.
About TAOnline.com
Since 1996, TAOnline.com (Transition Assistance Online) has been here to help the nearly 200,000 service members who transition from active duty every year as well as the hundreds-of-thousands of veterans, reservists, guardsmen, and spouses looking for civilian jobs. Our career site is dedicated to their placement in careers that fit their extraordinary motivation, loyalty, and skill. TAOnline.com assists our country's heroes in gaining employment at the world's finest military-friendly companies. We help match employers to candidates through the use of pertinent and dynamic career information, unique online tools, relationships with key partners, and our longevity and experience in the military career site business.
Founded by former military personnel, TAOnline.com has been recognized by industry experts and organizations as a top leader in providing veteran jobs.