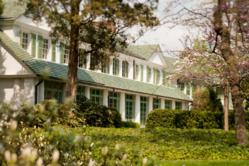 100 years later, Winston-Salem boasts a charming downtown, monthly gallery hops, a vibrant indie food and art culture and 35 nearby wineries.
Winston-Salem, NC (PRWEB) May 06, 2013
In 1913, the Moravian city of Salem united with the industrial hub of Winston. The synergies created a city with a thriving arts scene and a business climate, giving birth to companies such as Wachovia, Piedmont Airlines (now US Airways), Krispy Kreme, R.J. Reynolds Tobacco Company), Hanesbrands, Inc, BB&T Corporation and T.W. Garner Food Company, maker of Texas Pete® Hot Sauce.
The commitment to progress in the union made 100 years ago fuels Winston-Salem today. Entrepreneurs and farmers here are planting vineyards in place of tobacco and start-ups are supplementing the textiles heritage with biotech medicine and research. With a charming downtown, monthly gallery hops, a vibrant indie food and crafts culture and 35 nearby wineries, it's a nice place to visit, too.
Even our Class A Advanced White Sox Baseball team nods to the city's history. Ensconced in a new ballpark serving local brews, the team is called The Winston-Salem Dash—yep, in honor of the hyphen!
COME CELEBRATE OUR CENTENNIAL: May 9-12, 2013, a four-day celebration of the anniversary is scheduled: A Centennial Parade, a citywide scavenger hunt, gallery hop, symphony concert, religious services, a signature "Centennial Brew" from nationally recognized Foothills Brewery in downtown Winston-Salem and more mark the union. Details: http://w-s100years.com/index.cfm
THE STORY BEHIND THE DASH: A TALE OF TWO CITIES
THE MORAVIANS: In 1753, the Moravians—a German-speaking Protestant group predating the Lutherans—left their home in Saxony, Germany and settled on 100,000 pristine acres in northwestern North Carolina and named the area the Wachovia Tract. (Ring a bell? This is where our famous bank's name came from.)
The Moravians founded their community around Christian values and a tradition of fine craftsmanship; they believed in the education of women and slaves and shared a profound love for teaching and performing music. In 1766, Salem was established. As artisans of pottery, tannery, iron works, cloth and furniture making, the city of Salem soon became a thriving trade center and played pivotal roles as a supplier during both the American Revolution and the Civil War.
EXPERIENCE MORAVIAN CULTURE TODAY: The 1700s and 1800s come alive at Old Salem Museum & Gardens. Costumed interpreters teach visitors hearthside cooking. Gunsmiths craft historically accurate muskets. Potters and tinsmiths make and sell period Moravian pottery, dinnerware and more in this shady village lined with cobblestone streets. Visit the 200-plus-year-old Winkler Bakery or the Museum of Early Southern Decorative Arts (MESDA) with its registry of 80,000 artisans practicing 127 trades in the early South. http://www.oldsalem.org
THE INDUSTRIALISTS: In 1851, Winston, a city north of Salem, was established. Powered by abundant natural resources, manufacturing savvy, and agricultural and entrepreneurial energy, business leaders such as tobacco magnate R. J. Reynolds and the Hanes family would make their mark on the city in the next 30 years. At the turn of the century, Winston emerged as a national leader in tobacco and textile manufacturing.
EXPERIENCE THE REYNOLDA MILE TODAY… you might also call it Millionaire Mile. The residential road connects three iconic destinations, once the homes of the city's founding business and cultural leaders.

Reynolda House Museum of American Art was the summer home of the Reynolds tobacco family. Guests tour the home (you might call it America's period answer to "Downtown Abbey") for a unique peek into the luxurious lifestyles at the turn of the century. The Reynolds family collected American art, and today their personal collection with paintings by Bierstadt, Cassatt and more are on view. http://www.reynoldahouse.org/
Graylyn Inn and International Conference Center is an exquisite hotel known for its gracious hospitality and savvy butlers. It was the 1920s home of the Bowman Gray Family. Bowman Gray was a son of the founder of the Wachovia Bank & Trust Company, and Gray served as Chairman of the Board of R. J. Reynolds Tobacco Company. He was also a major benefactor of the medical school of Wake Forest College that would bear his name. http://www.graylyn.com/
The Southeastern Center for Contemporary Art (SECCA) curates exhibitions with cutting edge commentary on today's art and culture. The sleek new museum wing was built around the historic Hanes textile family mansion. The Hanes family continues to be one of the city (and region's) leading art benefactors. http://secca.org/
JOINING TOGETHER: In 1913, leaders of both cities saw the benefits of moving forward together. That merger of ideas, craft, culture and entrepreneurial savvy still salts the economic and cultural wheels of Winston-Salem.
Today, Winston-Salem is nicknamed the "City of Arts and Innovation." From its roots as a Moravian settlement in the 1700s to the development of the first locally established arts council in the United States in 1949, this city is full of artists, chefs, researchers, scientists, dreamers and doers. Come here to explore the Yadkin Valley Wine Country, learn a craft, understand history, experience a live performance, explore our art galleries, dine in our restaurants and bars and stroll through our farmer's markets. Visit Winston-Salem and feel the past and present merge in a uniquely satisfying way. http://www.visitwinstonsalem.com.
###