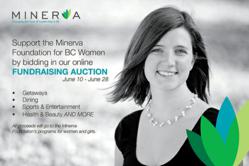 Vancouver, BC (PRWEB) June 13, 2013
The Minerva Foundation - A Vancouver charitable organization that delivers a range of unique programs to help women develop their leadership capacity, today announced the launch of their online fundraising auction. The online auction offers exciting hotel stays, gift certificates, event tickets, celebrity signed memorabilia and more. Bidders have an opportunity to bid on great packages donated by local businesses in support of The Minerva Foundation. Whether you are a local Vancouver resident or planning a trip to Vancouver, the online auction offers something for everyone - and does it while supporting a great cause.
The public is invited to bid in the 2013 Minerva Foundation Online Charity Auction presented by Vonality by visiting the Minerva Foundation auction website.
Bidders have the opportunity to bid on great packages such as Four Seasons Hotel Stays, an Indian Wells Condominium, Vancouver Canucks Team Signed Jersey, Fairmont Waterfront Hotel Package, BC Lions Tickets, a Private harbour tour of Burrard Inlet for 10 on the "Takaya", Sequoia Restaurants gift cards, Delta Vancouver Suites Hotel Package, Vancouver Artgallery Memberships, an Amazing Fairmont Pacific Rim Hotel Stay, a Vancouver Sun - Half Page Ad- Valued at $10,000 and much more.
To visit the auction and see a list of over 100 items, please visit http://www.vonality.com/ minervafoundation.
About The Minerva Foundation
The Minerva Foundation is a registered charitable organization that delivers a range of unique programs to help women develop their leadership capacity and find meaningful work. From education awards for women in need, mentoring and coaching, job search support and culturally relevant programming developed and delivered in partnership with Aboriginal women, the Minerva Foundation elevates the visibility, influence and contribution of women to change the face of leadership in BC.
Since 2001, the Minerva Foundation has given away more than $2 million in education awards and touched the lives of more than 3,000 women and girls across British Columbia.
About Vonality
Vonality is the market leader for developing and managing high profile online auctions and online auction software & platforms for high-profile entertainers, celebrities, entertainment media companies, retailers, corporate brands and non-profit organizations. Vonality has developed award winning not-for-profit and for-profit campaigns that have opened up new revenue opportunities for its clients and partners.
Our name brand clients are headlining performers, multifaceted entertainment networks, large and small corporations and innovative non-profits with common interests: generating new revenue, increasing visitor traffic, generating significant buzz and PR attention, raising money for charitable causes, and/or building goodwill in the communities in which they work and live.
Vonality can be found online at http://www.vonality.com.