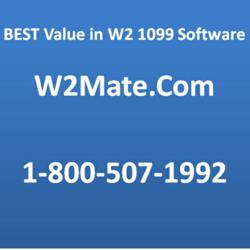 Risk-free trial of W2 Mate 2012 can be downloaded from realtaxtools.com . Customers can purchase W2 Mate and receive it instantly.
Chicago, IL (PRWEB) January 28, 2013
W2 Mate software by Real Business Solutions is helping US businesses and payroll service bureaus meet the 2013 deadline for sending W-2 tax forms to employees. The IRS-mandated due date for furnishing W2s is Thursday January 31, 2103. W2 Mate allows employers fill-out, review, import, print, email, PDF, e-file and e-deliver W-2 Wage and Tax Statements.
Risk-free trial of W2 Mate 2012 can be downloaded from http://www.realtaxtools.com/ . Customers can purchase W2 Mate and receive it instantly.
W2 Mate prints all W-2 form copies on regular white paper including the following copies:

Laser Copy A of form W2 : For Social Security Administration.
W2 Copy B: To Be Filed With Employee's FEDERAL Tax Return.
W2 Copy C: For EMPLOYEE'S RECORDS.
W2 Copy D: For Employer.
W2 Copy 1: For State, City, or Local Tax Department.
W2 Copy 2: To Be Filed With Employee's State, City, or Local Income Tax Return.
2012 W2 Mate is designed to provide accounting professionals or business users with year-end information reporting capabilities. The network-ready 1099 software can be used to manage multiple payers/clients and includes preparation for 2012 / 2013 forms W-2, 1099-MISC, 1099-INT, 1099-DIV, 1099-R, 1099-S, 1098-T, 1098, 1099-A, 1099-B, 1099-C, 1099-PATR, 1099-K, 1099-OID, 1096, and W-3. W2 Mate system enables users to produce all copies of forms for paper-based or electronic filing to the SSA, IRS and states that support the combined filing program.
W2 Mate is distributed electronically for instant download over the internet. The software can also be shipped on a CD. A free fully-featured demo version is available at http://www.realtaxtools.com/W2-Mate.html for evaluation.
In a statement Nancy Walters, W2 Mate product manager at Real Business Solutions said, "The new features and enhancements in our 2012 W2 1099 processing software deliver greater productivity that helps our customers save time and money."
In the past, only larger companies could afford an advanced W-2 processing software system to manage W-2 printing and electronic filing process. With 2012 / 2013 W2 Mate, any business can gain full-scale W-2 reporting management tools featuring state of the art integration with leading accounting and tax applications including Intuit QuickBooks.
W2 Mate Software Highlights:
Prepares unlimited number of 2012 W2 and 1099 forms for multiple employers and payers.
Fills in pre-printed 1099 Copy-A forms and prints other 1099 copies such as recipient and payer copies on plain paper using black ink.
Complies with 2012 IRS Specifications for Filing Forms 1099 Electronically and complies with SSA Specifications for Filing Forms W-2 Electronically (EFW2).
Generates ready-to-email 2012 W-2 forms and 1099 forms. Which eliminates the need to print and email W2s and 1099s.
SSA approved to print W2 & W3 forms on regular white paper, which eliminates the need for expensive forms.
Data import from MS Dynamics, Great Plains, Intuit QuickBooks, Sage Peachtree, Sage DacEasy, Excel and CSV. Data import from QuickBooks removes the "800 Form" / "$10 Million payroll" maximum limitation.
Efficient and intuitive manual W2 / 1099 data entry.
Supports 1099MISC, 1099K, 1099INT, 1099DIV, 1099R, W2, W3, 1096, 1099S, 1098T, 1098, 1099A, 1099B, 1099C, 1099PATR, 1099OID.
Automatically calculates Social Security and Medicare taxes. For paper filers 1096 and W3 are automatically generated.
Supports Windows 8, Windows 7, Windows Vista, Windows XP, Windows Server 2003, Windows 2000 or Windows 98.
Roll-over of payer and recipient information from year to year.
Password protection and data validation.
Generates printing labels, form totals and recipient lists.
Prompt, courteous and reliable U.S.-based support through phone, chat or e-mail.
Network ready with affordable pricing for multiple seats.
Exports W2s and 1099s to excel.
Meets IRS and SSA regulations.
TIN matching and verification including reports for missing TINs and TIN matching errors.
Inexpensive.
Calculates social security tax withheld on W2 forms.
Imports W2 data from EFW2 format.
Helps filers meet 1096 and W3 due dates for 2012.
A free W2 processing software demo can be downloaded by visiting http://www.realtaxtools.com/ .