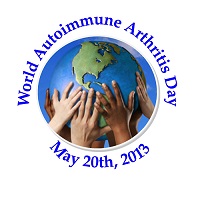 "There is currently nowhere else a person affected with these diseases can find so many resources under one roof. Granted, it's a virtual roof, but that doesn't change the magnitude of the impact."
(PRWEB) May 07, 2013
This year may only be the second annual WAAD Virtual Convention, but the International Autoimmune Arthritis Movement (501c3 Nonprofit Hosts of #WAAD13) estimates over 10,000 attendees will visit the site at some point during the 47 hour online extravaganza. "Last year we had over 4,200 visitors from 14 countries come to the Virtual Convention, but this year we've added so many activities, including support from 36 Nonprofits, most of who will be hosting Virtual Booths that attendees can visit," explains Event Coordinator and CEO of the International Autoimmune Arthritis Movement, Tiffany Westrich. "There is currently nowhere else a person affected with these diseases can find so many resources under one roof. Granted, it's a virtual roof, but that doesn't change the magnitude of the impact." WAAD13 will become the largest and most collective resource in history for those affected by Autoimmune Arthritis diseases. The entire event is 100% coordinated and run by those affected by the diseases, even some who are disabled volunteers. Westrich adds, "Opening the world to virtual volunteering opens the doors to big possibilities!"
In addition to nonprofit participation the Event boasts a cutting-edge "Day in the Life with Autoimmune Arthritis" Virtual Booth and corresponding App (available for both iPhone and Android), aimed to educate supporters and the public about life with one or more of these diseases. There will also be an Ask the Experts Panel, Presentations, a Resource Center, Live Chat Sessions, and a Lounge where attendees can visit others from around the world.
The world of Autoimmune Arthritis has yet to see such a ground-breaking event. This 47 hour online convention is held on May 20th, in every time zone around the world. The virtual doors will open at 6am ET/USA on May 19th and close at 5am ET/USA on May 21st.
Autoimmune Arthritis diseases, or primary joint diseases that have an autoimmune component, include: Rheumatoid Arthritis (RA), Psoriatic Arthritis (PsA), Ankylosing Spondylitis (AS), Primary Sjogren's Syndrome (SS), Systemic Lupus Erythematosis (SLE), Still's Disease (SD), Juvenile Arthritis (JA), Mixed Connective Tissue Disease (MCTD) and Undifferentiated Connective Tissue Disease/Spondyloarthropathy (UCTD/SpA). WAAD13 also recognizes Extended Autoimmune Arthritis Diseases, or those autoimmune diseases that can involve joints, but are not primarily joint diseases. You can learn more by visiting our Facebook Page at http://www.facebook.com/WorldAutoimmuneArthritisDay or by following us at http://www.twitter.com/WAutoimmuneAD.
Register for free at http://www.WAAD13.com.