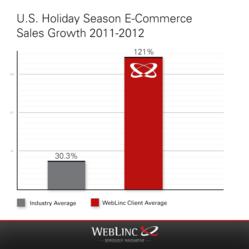 We are constantly looking for innovative, customized solutions that will keep our clients ahead of the competitive eCommerce environment, and look forward to continued success in the New Year. --Darren Hill, CEO, WebLinc
Philadelphia, PA (PRWEB) January 15, 2013
WebLinc (http://www.weblinc.com), an industry leading eCommerce web development company, celebrates another record-breaking year for its e-retailer clients who combined for a sales total exceeding $1.7 billion in 2012 after several clients saw unprecedented sales records throughout the holidays.
With national holiday eCommerce sales topping $42 billion in 2012, WebLinc played an integral role in the success and growth of its clients. Despite increased competition from other e-retailers and brick-and-mortar stores, collective sales for WebLinc clients outperformed industry averages with an average of 121% YoY growth from Black Friday through Cyber Monday.
To accommodate the overall level of growth WebLinc clients experienced, the company focused on scalability planning and providing the right resources to plan for the short, but intense, holiday sprint. Leading up to the holidays, WebLinc worked in partnership with its clients to plan for the surge of online shoppers and updated site features, such as the newest version of the WebLinc on-site search tool, that helped differentiate clients amongst their competitors. In line with the company's core philosophy and commitment to client success, the WebLinc team remained diligent in its monitoring and scaling of client websites to ensure no unscheduled downtime was experienced and no sale was lost.
"By delivering the right experience to the right customers, our clients were able to make the most of the busiest online holiday shopping weekend in history and focus on what they do best," said Darren Hill, Co-founder and CEO of WebLinc. "Despite massive traffic spikes to our clients' websites – in some cases seeing over 30 times the normal peak traffic – throughout the extended weekend, our clients experienced zero down time."
The WebLinc eCommerce platform is engineered to integrate with nearly any back-end ERP or inventory management system making it easy and cost-effective to deploy and maintain a world class eCommerce website without the resource strain often created by major website development efforts. Some of the fastest growing online retailers rely on WebLinc for their eCommerce platform and creative and strategic services including Nasty Gal, Free People, Sanrio, Yarn.com, Fanatics, Free Country, Bobby Jones, and BHLDN, among others.
"We are constantly looking for innovative, customized solutions that will keep our clients ahead of the competitive eCommerce environment, and look forward to continued success in the New Year," continued Hill.
ABOUT WEBLINC
WebLinc is an eCommerce pioneer delivering smart, innovative, brand-building solutions for online retailers. Serving domestic and international companies via its flexible and proprietary platform since 1994, the privately-owned company provides a world class eCommerce platform, usability and creative services as well as strategic consulting for some of the leading retail and B2B brands in the U.S. The tested and scalable WebLinc eCommerce platform, combined with an in-depth knowledge of eCommerce strategy, enables WebLinc to create solutions that are unique reflections of their clients' brands and brand experience. Learn more: visit http://www.weblinc.com, follow @WebLinc or call 215.925.1800.