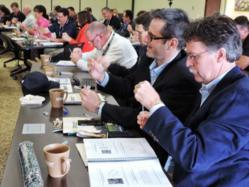 We are focusing on supporting our health care educators in the classroom.
PALMYRA, Wis. (PRWEB) June 25, 2013
Fifty-five faculty and clinicians from chiropractic schools across the country gathered together to share ideas and best nutritional education practices during the first Standard Process Inc. Whole Food Nutrition Symposium. During the event hosted by the whole food supplement manufacturer, symposium attendees discussed the benefits and values of combining nutrition and chiropractic therapies, practical applications of nutrition in a clinic setting, and the research initiatives needed to clarify the role that nutritional supplements can play in supporting a healthy body.
"The Whole Food Nutrition Symposium was a great opportunity to see my colleagues from the other chiropractic colleges and to learn about the ways that they are incorporating Standard Process into the classroom and clinics," said Ralph Davis, D.C., dean of Life University's chiropractic college. "It was obvious from the quality of the lectures and the outstanding farm and factory, that Standard Process is the clear leader in their field."
Fifteen chiropractic educational institutions participated in the Whole Food Nutrition Symposium held at the whole food supplement manufacturer's corporate headquarters in Palmyra, Wis. the first weekend in June. By participating in the symposium, clinicians and faculty members had the opportunity to visit Standard Process for the first time. The chiropractic educators were able to experience the whole food manufacturer's plant and certified organic farm and see how Standard Process supplements are created from seed to supplement.
"I truly feel honored to have been a part of this training and have been reminded of basic principles and core beliefs," said attendee Mary Unger-Boyd, D.C., associate professor at Logan College of Chiropractic. "This symposium included scientific information, research and a practical model for implementing whole food nutrition clinically. I feel I can provide consistency in my courses with the training and goals of our clinic system. I am excited for the schools and our students."
Over the last five years, Standard Process has reached out to health care schools, investing more than $10 million into long-term educational outreach efforts to involve current and future health care professionals in the study of whole food nutrition. In 2013, Standard Process extended its efforts to include staff, faculty and clinicians of chiropractic colleges.
"We have had programs in place to encourage current health care professionals and students to study the vital role that whole food nutrition plays in achieving and maintaining health ," says John Nab, D.C., director of professional development for Standard Process. "Now we are focusing on supporting our health care educators in the classroom."
Nab and his team plan to reach out to more health care schools in the future, including acupuncture and medical education institutions. Standard Process will also continue its commitment to providing scholarships; nutritional education lectures on campuses; tours of the Standard Process plant and organic farm; and funding campus improvements.
Professional health care educational institutions interested in partnering with Standard Process can contact Lisa Hackett, professional development coordinator, at lhackett(at)standardprocess(dot)com.
###
About Standard Process Inc.
For more than 80 years, Standard Process, headquartered in Palmyra, Wis., has provided high-quality, nutritional whole food supplements through health care professionals. Standard Process offers more than 300 products through three product lines: Standard Process whole food supplements, Standard Process Veterinary Formulas and MediHerb herbal supplements. The products are available only through health care professionals.
Standard Process is involved in every step of production. The company grows crops on company-owned, organically certified farmland, utilizes state-of-the-art manufacturing processes, and employs the highest quality control standards. Standard Process strictly adheres to the Food and Drug Administration's good manufacturing practice requirements. Through these measures, Standard Process can ensure that its products are of the utmost quality and potency. Standard Process was named a Top 100 Workplace in Southeastern Wisconsin a number of times and is a member of the Inc. 5000 Honor Roll.
For additional information about Standard Process, visit standardprocess.com.