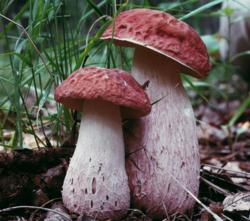 Once you take a little bit of time to appreciate their individuality, the world of wild mushrooms will intoxicate you.
Dayton, OR (PRWEB) May 07, 2013
The Joel Palmer House Restaurant, led by chef/owner Christopher Czarnecki, has been specializing in wild mushrooms since 1997. This family-run, fine-dining restaurant has over 100 years of experience hunting and cooking wild mushrooms and truffles. Chef Christopher notes, "Wild mushrooms are as diverse as the wines you buy. Would you casually substitute a Chardonnay for Pinot noir? Once you take a little bit of time to appreciate their individuality, the world of wild mushrooms will intoxicate you."
Chef Christopher takes pride in continuing the tradition and shares his Top 10 Tips for the preparation and cooking of wild mushrooms. These tips refer specifically to "wild" mushrooms - those that can be foraged in the wild, but cannot be cultivated commercially. Often, wild mushrooms can be found either fresh or dried in local stores or specialty markets.
1. Buy from a Reputable Source
New mushroom hunters should never go foraging alone. Although the percentage of mushrooms that are poisonous is quite small, there are many that can make you very sick. In addition, there are many that aren't dangerous, just inedible. Aspiring hunters should rely on experienced experts for guidance who should be able to teach beginners how to identify impostors, such as the difference between an Aminita and a Matsutake. Buyers should also beware of roadside vendors, as they may be commercial mushroom hunters looking to make an easy buck. Before you put your money down, make sure they're not selling Verpas and calling them Morels.
2. Use Plenty of Water
When cleaning wild mushrooms, make sure to rinse each one under water to get dirt out of the nooks and crannies. Some cooks say that using water to clean mushrooms is bad, but this is only true if you don't plan on cooking the mushrooms within the next few hours. Mushrooms already contain over 95% water and are magnets for bugs. Slicing and cleaning them thoroughly will keep that "extra protein" out of your dish.
3. Fresh is Best, Except When It's Not
There's nothing more exhilarating than bringing home a basket of matsutakes, morels, porcinis, or chanterelles. But one of the best kept secrets of mushroom cookery is that dried mushrooms can be just as fantastic. Since mushrooms are over 95% water, when you dry them out, you're left with 100% flavor. Reconstituting these mushrooms will have a different texture than when they're fresh but can have a more intense flavor and aroma.
4. Save the Liquid
Blanching fresh mushrooms is the quickest way to sterilize, tenderize, and otherwise render wild mushrooms safe to consume. Some varieties of porcini, boletus edulis, can upset your stomach when consumed raw. The blanching liquid is rich with flavor and can be used immediately or frozen for several months. But when re-hydrating dried mushrooms, the dark colored water that you're left with is a source of immense flavor. Either reduce it down to concentrate it for freezing or simply cook your rice in it. Wasting this flavor-infused water is nothing short of a culinary sin.
5. The Holy Trinity
Aside from butter and onion, the three essential seasonings when cooking wild mushrooms are soy sauce, sugar, and salt. Soy sauce gives body and umami to the earthy aroma of mushrooms, while sugar is used to round out the metallic nature that soy sauce can generate. You'll want to finish with salt. If you use soy sauce as your only source of salt, its own flavor will overpower the mushrooms.
6. Don't Over Season
Don't forget, we actually want to taste the mushrooms. Beef stock, chicken stock, herbs and spices are used too often and can overwhelm the mushrooms' natural characteristics. Why place a lone morel in a dish loaded with other components? The trick is to find elements that complement the specific type of mushroom with which you're working. For example: morels pair well with caraway or bell pepper, while truffles and foie gras are great companions. My idea of heaven: white chanterelles and bacon.
7. A basket of mushrooms but not enough time to eat them? Dry them.
Preserving mushrooms by drying is a simple yet effective way of making sure you don't waste your money or time spent in the woods. Drying doesn't need specialty equipment but they can be quite helpful. The trick is to slice your mushrooms to ¼ inch, lay them flat on a sheet pan or drier tray and air dry until all moisture has evaporated away. A way to do this at home is to place your tray of sliced mushrooms into your oven at its lowest setting with the door ajar for several hours. An added bonus is that it will leave your house smelling fantastic. Mushrooms best suited for drying are porcini, morels, black trumpets, and candy caps.
8. Freeze Mushrooms for Future Use
After sterilizing your mushrooms, and killing any remaining bugs from cleaning, simply put your mushrooms into a seal-able container, fill to the top with the blanching liquid, and place in freezer. They will keep for several months and will retain much of their texture. Mushrooms best suited for freezing are chanterelles, matsutake, porcini, coral, bear's head, and hen of the woods.
9. The Trouble with Truffles
The use and storage of truffles warrants a separate article all on its own, but they're really not that complicated once you know the basics. When shopping for them, smell them first. If their scent makes you swoon with delight, then buy them. If not, pass. Never freeze truffles unless they've been chopped and mixed into butter. If truffles become dried out, then all the wonderful goodness that makes them so expensive has been "inhaled by the angels", never to return.
10. Pair Wine and Mushrooms
Pinot Noir and wild mushrooms are a match made in heaven. This is the reason our family opened the Joel Palmer House Restaurant in Oregon's Willamette Valley wine country. There's just something about the earthiness of the mushroom dancing around your palate with the acid of the wine that makes my heart sing. Chardonnay, Cabernet Sauvignon, and Pinot Gris can also be great friends to the foraged fungi, but are often paired with the protein of the dish as opposed to the mushroom itself. Feel free to experiment. Food, wine, friends, and family are all a part of what makes discovering the world through taste such a wonderful experience.
About The Joel Palmer House Restaurant
The Joel Palmer House's innovative and exciting menu features choice local produce, wild mushrooms and Oregon truffles. Chef Christopher Czarnecki and family strive to incorporate seasonal ingredients and use many locally grown vegetables, including many from their own on-site garden. Chef Christopher Czarnecki has created a tantalizing, creative menu that marries perfectly with the world renowned Pinot Noir of Oregon's Willamette Valley. Of note, the Joel Palmer House ranks as one of Oregon's finest historic homes and is on the National Register of Historic Places and the Oregon Historic Register. Built in 1857, the house is Dayton's oldest standing structure. When weather permits, guests can enjoy their dinner on our outdoor patio, soaking in the last rays of sunshine in the heart of Oregon Wine Country.