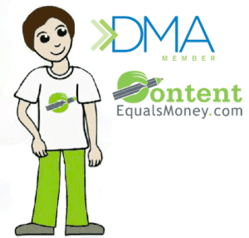 For many marketing agencies, it can be feast or famine. We provide the scalable solution they need.
Lexington, KY (PRWEB) February 24, 2013
Content Equals Money, an online content writing service, is pleased to announce its recently acquired membership with the Direct Marketing Association (DMA). The DMA is described as "the world's leading independent organization for data-driven marketers," according to its website. More than 50% of all Fortune 100 companies boast membership with the DMA.
As a content writing service for agencies and web-based clients, Content Equals Money (CEM) constantly strives for opportunities to provide an edge for its clients. Membership with the DMA includes access to valuable education and research materials, white papers, as well as discounts on admission to a variety of educational and professional conferences. Other benefits include access to the DMA's Government Affairs team, a pro-direct marketing lobbyist group in Washington, D.C.
For a fast-growing writing service like Content Equals Money, membership with the DMA is expected to be highly successful. "We are thrilled to be joining the ranks of such a great organization," said Content Equals Money founder and co-owner, Amie Marse. "The DMA has a rich history going back to 1917, and they've kept stride with every change in data-driven marketing strategies – especially throughout the last ten or fifteen years, an era when the changes have been big."
Content Equals Money currently employs 12 staff writers and a four-person editing staff, a team that is able to generate 25-30k words of conceptually and technically unique content per day. Content Equals Money enjoys a 97% repeat client ratio, largely due to the personalized approach.
CEM founder, Amie Marse, personally hires, trains, and manages writers, which helps maintain high quality standards across the board. Furthermore, clients return to Content Equals Money on a repeat basis because of the company's scalability factor. Agencies and businesses know that they can order $30 worth of content one week and $3,000 the next.
As internet marketing enters into a year of explosive growth in 2013, CEM and other writing services are predicting increased demand and a greater need for scalability. "For many marketing agencies, it can be feast or famine," said Amie Marse. "While we might bill just a couple hundred dollars one week, we're able to write 10k words for the same agency the next week."
As CEM enters the second quarter of 2013, the company hopes to leverage its new DMA membership to better serve current and prospective agencies. Questions and comments about Content Equals Money and content writing in general are welcomed.
About: Founded in October 2010, Content Equals Money is an online content writing service for internet marketing and SEO agencies. The company has 12 U.S.-based staff writers and four editors.