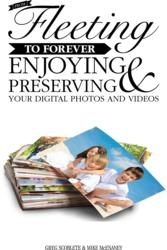 Since the launch of MailPix nearly one year ago, we have provided consumers with top-notch tips and techniques for getting the most from their digital pictures. - Fred H. Lerner, president and CEO, MailPix
Huntington Beach, CA (PRWEB) June 19, 2013
MailPix.com, the new photo-printing site, is partnering with Your Digital Life, the premiere Web site for discovering all there is to know – and do – with your digital photos and video, to educate consumers on the need to preserve their images and memories.
"Since the launch of MailPix nearly one year ago, we have provided consumers with top-notch tips and techniques for getting the most from their digital pictures," says Fred H. Lerner, president and CEO, MailPix. "Our partnership with Your Digital Life is a natural extension of this."
"One of true ironies of the digital age is that we've never had more things to do with our images -- from photo books to wall art to sharing on social networks -- yet we've taken so many photos on so many devices that it's hard to even stay organized, let alone take advantage of all the cool things that are out there to do," adds Greg Scoblete, editor, Your Digital Life.
Your Digital Life will provide content for the MailPix site and the MailPix blog (http://www.mailpixblog.com), as well as be a MailPix affiliate.
To kick off the partnership, MailPix will provide a free 20 page 4x6 photo brag book to YDL members (just pay shipping). For more info, go to http://www.mailpix.com/deals/your-digital-life.
ABOUT YOUR DIGITAL LIFE
Every day, Your Digital Life (http://www.your-digital-life.com) helps readers learn about all there is to do with their images: from innovative smartphone apps to exotic photo merchandise and everything in between. The site is edited by Gregory Scoblete and Michael McEnaney, both photo-industry journalists with decades of experience.
Scoblete and McEnaney are the co-authors of the e-book,"Fleeting to Forever: Enjoying & Preserving Your Digital Photos and Videos", available now for $6.99 at Amazon, Sony, iTunes, Kobo, and Barnes & Noble bookstores.
ABOUT MAILPIX.COM
Founded in 2012, MailPix.com is the pre-eminent site for preserving photo memories as photo books, prints, cards, enlargements and other tangible products. The goal of MailPix is to keep costs low and to pass savings along to consumers. The MailPix site uses the latest technologies to compete head-to-head with established companies in the $2 billion photo personalization market. Featuring industry-leading Facebook and Instagram integration, MailPix is poised to help consumers make photo memories from the more than 70 percent of Facebook posts containing images.
Founder and CEO Fred H. Lerner has had a long photo-industry career including executive roles with Eastman Kodak, Berkey Film Processing, Qualex Inc., Lerner Processing Labs and Ritz Interactive. Peter Tahmin, joined as co-founder and COO, MailPix.com, and was former vice president, Ritz Camera and Image, and SVP and COO of Ritz Interactive. The MailPix board of advisors includes James Joaquin of Catamount Ventures, formerly president and CEO of Ofoto; Ted McGrath former President of Fujifilm, USA and General Manager of Kodak's Consumer Imaging Division; Gary Pageau, of InfoCircle and former Publisher, Content Development and Strategic Initiatives at Photo Marketing Association International (PMAI); William A. Roskin, board member of Martha Stewart Living Omnimedia, Inc. and is the former Executive Vice President of Viacom, Inc.; Oscar B. (Bud) Marx III, chairman of Amerigon and is the former President & General Manager, Ford of Mexico and CFO of Ford, Europe; Bruce Charles, a founder of the law firm, Charles, Kane & Dye LLP; Gary Kramer, the founder and a co-managing partner of Kramer & Olsen Accountancy Corp.