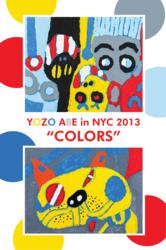 He is now preparing to exhibit new, eccentric paintings in New York, many of which were inspired by his experience in Los Angeles. YOZO quotes, "My paintings represent the conquest of liberty and a challenge to the society."
New York, NY (PRWEB) January 09, 2013
YOZO is a contemporary Japanese artist who creates beautiful, layered canvases to express his inner feelings and that explore themes of passion and the freedom. Throughout his career, YOZO has continued establishing his work to an international audience, producing outstanding exhibitions that include Tokyo, Vancouver, Spain, and Los Angeles. His upcoming exhibition in New York City will feature a collection of paintings evoking nostalgia and music. YOZO ABE will show his new artworks at Gallery 69 and Tribeca Framing from February 1st to 7th, 2013.
YOZO approaches canvases without having any assumptions or specific ideas with regards to the directions his compositions will take. YOZO quotes, "To me, drawing is a conversation with myself." His emotional expressions and genuine feelings are conveyed through his art and find emotional consistency via his impeccable craft. YOZO's inspiration for art is always spontaneous and naturally intuitive. He illustrates not only innocent figures, but also depicts peculiar ones. His lovable yet quirky personality sometimes generates confusion or puzzlement in his audience. And, perhaps playfully, YOZO enjoys these moments of disconnect, which is a frequent component of experiencing his art.
As a Japanese contemporary artist, YOZO ABE strongly believes in the significance of expanding the reach of his art on a global scale. For instance, his 2011 summer exhibition at the James Gray Gallery in Santa Monica, made an excellent first impression to the art community in California. This led to his successful debut at Downtown Los Angeles's Art Walk in August 2011. The event was significant for YOZO because of the opportunity for him to immerse himself in LA's culturally diversified art scene, community, and most importantly its people. Communicating with art lovers in Los Angeles greatly inspired him and gave him new insights that were not present before. At the end of the event he had received overwhelming support and enjoyed unanimous recognition from the enthusiastic Los Angeles crowd.
In February 2013, the artistic transformation YOZO experienced following his year in California will finally be revealed. He is now preparing to exhibit new, eccentric paintings in New York, many of which were inspired by his experience in Los Angeles. YOZO quotes, "My paintings represent the conquest of liberty and a challenge to the society." At the upcoming exhibition, "COLORS", in Gallery 69 & Tribeca Framing, you will participate and witness YOZO ABE as he continues to challenge both himself and his audiences.
For more information about YOZO's artwork, please visit http://www.yozoabe.com
Gallery Information
Gallery 69 and Tribeca Framing
Address: 69 Leonard Street New York, NY 10013
Phone: 212-343-2278
*Closed Sunday