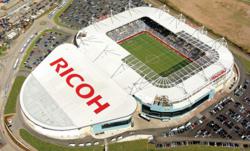 Barnshaws Tividale branch delivered 219mm od pipes curved to 1422 RAD through 99 degrees
London (PRWEB UK) 31 January 2013
Barnshaws has yet again proven to be specialists in structural bends as the company worked alongside M&D Welding to provide quality induction bent pipes to Ricoh Arena in Coventry.
The metal bending experts were awarded the work due to exceptional induction bending knowledge and experience that was instrumental for the project.
Barnshaws Tividale branch delivered 219mm od pipes curved to 1422 RAD through 99 degrees. The pipes were used for digital screens for the football/rugby stadium.
Additionally, Barnshaws offers a variety of difficult bends that very few companies can achieve. To find out more about our induction bending capabilities please click here.
ENDS
Established in 1969, Barnshaw Section Benders are based at six manufacturing sites around the UK, located in the West Midlands, Manchester and Hamilton, Scotland. Across these sites over 120 specialist machines are housed, and have provided steel bending services for some of the country's largest projects, including shopping centres, football stadiums, airports, and most recently the Olympics.
For more information, please contact Aiste Narvilaite.
Tel: 0121 521 5219
Email: aiste.narvilaite(at)barnshaws(dot)com