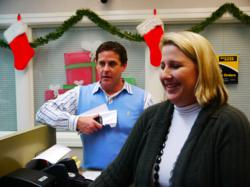 "We are excited to be the inaugural bank for Brightlane. Fee income has become the lifeblood of a community bank like ours due to increased economic uncertainty."

- Reed Alexander, CEO of UnionState Bank
Atlanta, GA (PRWEB) January 14, 2013
Longtime Atlanta banking entrepreneur T. Stephen Johnson announces today the formation of Brightlane, Inc. and the signing of its first customer, UnionState Bank, a 13 branch organization in the Birmingham, Alabama area.
Chris Hazlewood, Co-Founder and Chief Operating Officer for the new Company, said, "We are proud to have UnionState Bank as our first of many customers we expect to come to terms with in the near future."
Brightlane provides community banks the opportunity to offer the same suite of products to low and moderate income families that large banks currently offer. The products, led by the Brightlane Money Card, allow underserved customers access to financial services minus the high fee and safety concerns associated with check cashers and payday lenders.
As a part of the service, Brightlane offers community banks assistance in customer acquisition using social media channels. This marketing strategy is supported by a unique incentive plan to help bring new customers into the bank branch. Chris Johnson, Co-Founder and Chief Creative Officer, believes that "Word-of-mouth marketing, which community banks on a low advertising budget rely heavily on, has become an increasingly powerful tool. The customer's voice is louder now than ever before and can have a larger impact than the national television ads being run by the [large] banks."
To provide extra value to its customers, Brightlane includes access to a larger number of free or discounted surcharge ATMs than the bigger financial firms, as well as check cashing and Western Union services. "There is little to be gained by closing branches for most community banks. With the addition of this new suite of products, opening new offices may once again become a positive trend," said Darrell Sumner, Director of Marketing for Brightlane.
Reed Alexander, CEO of UnionState Bank, added, "We are excited to be the inaugural bank for Brightlane. Fee income, as well as personal and business loans to the community, has become the lifeblood of a bank like ours."
About UnionState Bank (USB)
USB is headquartered in Pell City, AL and has been in operation for over 100 years. It has 13 offices in Alabama and Florida, as well as $250 Million in Assets.
About Brightlane, Inc.
Brightlane is headquartered in Atlanta, GA and is the latest venture of T. Stephen Johnson, a long time banking industry consultant and investor. He was also Founder of the first internet-only bank (NetBank), the first reloadable pay card (Directo, Inc.), the Southeast Bank Fund and the North American Bank Fund. For more information visit http://www.BrightlaneInc.com.