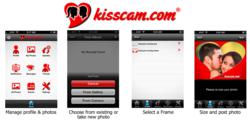 Denver, Colorado (PRWEB) February 12, 2013
With Kisscam.com, users can post photos with their sweetheart inside a Kisscam® red heart photo frame or post photos with a friend or family member (even their favorite pet) with the Kisscam affection and friendship frame instantly to Facebook. Become a member today at http://www.kisscam.com.
Haven't found that special someone? The Lonely Hearts Club on Kisscam.com offers links to top online dating sites to help singles find that special someone to kiss and post in a Kisscam heart frame!
Kisscam.com and the mobile app features:

Post images to Facebook and Kisscam.com with the frame of choice from photos on their computer, smart phone or digital camera
View other user's shared images, download them and submit comments
Signup / login from our app to synchronize with the Kisscam.com website and Facebook in real time
View and edit your profile including status updates and profile images
Send, receive and access private messages from Kisscam.com
Manage privacy and application settings
Mobile App Availability:
Kisscam.com is available now for free for iOS and Android devices and can easily be downloaded through the App Store or Google Play Store. Future releases will include video uploads and "Flirts" that members can send to someone special.
About Kisscam, LLC:
Kisscam, LLC is a new provider of mobile application technology. Founded in 2012 and headquartered in Denver, Colorado, the company focuses on developing mobile and web-based applications that bring romance, family and friends together. For more information or to become a member of Kisscam.com, visit http://www.kisscam.com. Stay connected with Kisscam on twitter.com/kisscamllc or facebook.com/shareyourkiss.