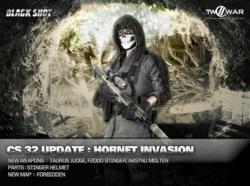 After the launch of the new contents, players will be going on event missions for which special offer items will be available
(PRWEB UK) 23 April 2013
BlackShot Europe released the new "Forbidden" Team Death Match map today, as well as weapons designed according to the "Hornet Invasion" theme. There is a rifle for Special Forces, the F2000 Stinger with a small gun barrel, making less noise and providing stability and the Taurus Judge, a new pistol causing heavy damage to enemies, optimized for short-range fire. Last but not least there is a stunning geometric-skinned AKS74U Molten and a Stinger Helmet, which is a stylish American football helmet with a hornet symbol.
After the launch of the new contents, players will be going on event missions for which special offer items will be available. In the weekend-event 'Defend a Position Desperately'; the publisher will give away the best in-game prizes, including a new weapon. Players even stand a chance to receive premium items by playing more than one hour per day or more than one hour daily over the course of a whole month. There are unique item packages for reloading the weapons, such as Forest, Desert, Jungle and the Full Boost, from which players will be able to choose.
BlackShot Europe Official Website: http://www.twowar.com/games/blackshot.asp.
About BlackShot Europe
BlackShot is a tactical MMOFPS developed by Vertigo Games, based on the story of an unprecedented world war. With different objectives and in various areas, players can enjoy exciting PvP battles. By fighting in a team and fulfilling different tasks, players can gain rewards to advance characters in level, gears, weapons, and some very important tactic skills.
About eFusion MMOG GmbH
eFusion MMOG GmbH, headquartered in Eschborn, Germany, is the official publisher of Dragon Nest, BlackShot and NavyField in Europe. Founded in 2007 and initially specialised in military games, eFusion MMOG is now extending its game portfolio and focusing on the publication of high quality massively multiplayer online games (MMOGs) developed especially in Korea for European markets.
Contact
eFusion MMOG GmbH
Mergenthalerallee 77, D-65760 Eschborn, Germany
Web: http://www.twowar.com
Tel: +49 (0)6196 – 9986 900, Fax: +49 (0)6196 – 9986 909
Email: press(at)efusion-mmog(dot)com
Michael Lim, CEO
Email: michael(at)efusion-mmog(dot)com
Sonnya Lee, Press Relations
Email: sonnya(at)efusion-mmog(dot)com
Tel: +49 (0)6196 – 9986 902