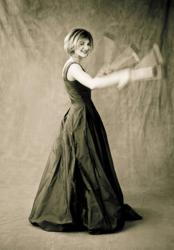 The marimba is rich in possibilities of expression.
Arcata, CA (PRWEB) May 14, 2013
Internationally acclaimed soloist Ivana Bilic will share her passion for the marimba in two concerts with the Eureka Symphony, May 17 and 18, at Eureka's Arkley Center for the Performing Arts.
The opening evening will include "Musical Notes," a talk by Marimba One founder and owner, Ron Samuels.
Bilic says the music featuring the marimba, a large keyboard percussion instrument, is a way to "reach into the conventional world, sophisticated sound that is still accessible to all."
Her appearance is sponsored by Arcata's Marimba One, which has led the world of percussion in new and higher standards for the marimba.
Bilic says, "I found that with a Marimba One instrument, I can always go further in my quest for the perfect sound. The marimba is rich in possibilities of expression."
Following the virtuoso performances by Ms. Bilic in May, the marimba will be featured in eight concerts during world-famous Zeltsman Marimba Festival starting on June 30 and coming for the first time to Arcata.