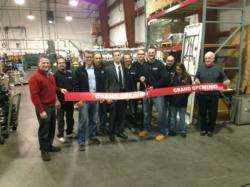 We want to help keep the Colorado air clean and easy to breathe
Denver, CO (PRWEB) May 14, 2013
American Tube Technology, Inc., held an official opening and ribbon-cutting ceremony for its 100 percent solar powered production facility in Denver on May 1.
The newly complete solar panel array atop the facility makes American Tube Technology the world's first 100 percent solar powered small diameter tubing manufacturer.
The event was hosted in conjunction with Namaste Solar, a solar panel engineering and design cooperative based in Colorado, which worked with American Tube Technology to install the solar panels.
The solar array is expected to power American Tube Technology for the next 20 years and will pay for themselves in 7 years, Jeremy Askew, operations supervisor for American Tube said.
"We want to help keep the Colorado air clean and easy to breathe," Askew said. "The company's location in sunny Denver, Colorado, which averages over 300 days of sunshine helps make this investment viable."
Special guests at the ribbon-cutting included Cabell Hodge, policy, regulatory, and outreach associate at the Colorado Energy Office; Scott Prestige, energy industry manager at Metro Denver EDC; and Heath Mackay, co-owner and commercial project manager for Namaste Solar.
Also in attendance was Tim Doyle, vice president of sales and marketing at TopSpot Internet Marketing in Houston, Texas, which recently built and launched American Tube Technology's new website.
"It really does put things in perspective to meet and see firsthand the process, the people, and the passion that creates an environment of innovation," Doyle said of the event and tour of the facility.
About American Tube Technology
American Tube Technology, Inc. is a small diameter tubing manufacturer of stainless steel and nickel alloy. American Tube's production facility in Denver rolls out millions of feet of tubing every year. Since 1995, American Tube Technology has been producing high quality tubing at an economical price for a range of markets including for industrial, laboratory, medical, and oil and gas applications. For more information or to request a quote, visit the new http://www.americantube.com or call 1-800-595-TUBE-ATT.