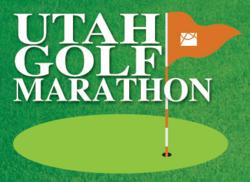 Lindon, Utah (PRWEB) June 24, 2013
Alexander's is pleased to announce its June 19, 2013 Utah Golf Marathon generated more than $18,000 to benefit the UVU Wolverines men's basketball team scholarship fund.
Jeff Alexander, CEO of Alexander's – a cross-media print and marketing communication firm – congratulated golfers on completing the 54-hole challenge as prizes and auction items were delivered at the end of more than a 12-hour day.
Dick Hunsaker, UVU men's basketball coach, stopped by to thank golfers for their support. As Coach Hunsaker pointed out, Utah Valley University relies on members of the community for athletic program financial support. With the money raised from the event, more students will be able to enroll in year-round courses at UVU. Hunsaker thanked everyone for their contributions on behalf of the team and the University.
Many other Utah businesses stepped up to lend their support to this year's cause, including Colorado Printing Company, KT Tape, Mad Dog Cycles, Mr. Mac, Sierra-West Jewelers, The Links at Sleepy Ridge, Utah Blaze, Utah Valley University and Wing Industries. Alexander's is grateful for the support of other community-minded businesses and organizations.
Event photos are available on Alexander's blog, CommunicationTransformed.com and updates on the annual golf marathon are available at UtahGolfMarathon.com.
About Alexander's
Alexander's delivers creative communication solutions. Since 1979 Alexander's has employed print technology to benefit clients. Today the integrated print and marketing consulting firm delivers solutions online and off-line, from every kind of printed product to marketing communication services including graphic and website design, public relations and social media. The firm's Divvy software helps franchise and other businesses manage branded marketing collateral Web stores. For more information visit Alexanders.com or call 801.224.8666.