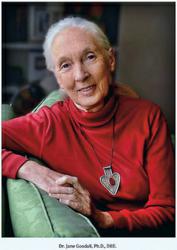 Easton, PA (PRWEB) April 10, 2013
World-renowned primatologist and conservationist Jane Goodall will speak at Lafayette College in Easton, Pa. on Thursday, April 11.
Founder of the Jane Goodall Institute and UN Messenger of Peace, Goodall will hold a news conference at 4:45 p.m. in Pfenning Alumni Center followed by a public lecture at 7:30 p.m. in
Kamine Gymnasium, Kirby Sports Center.
Her lecture, "Making a Difference," will also be televised live on campus in Colton Chapel. No tickets are required for the Colton Chapel venue.
Following the public lecture, Goodall will sign books and pose for photos in Kamine Gymnasium.
Her address is the College's Thomas Roy and Lura Forrest Jones Visiting Lecture for 2012-13. It is one of three addresses by world figures on campus this April. Former British Prime Minister Tony Blair spoke on Monday, April 8 and former U.S. President Jimmy Carter is speaking on Monday, April 22.
A native of England, Goodall first set foot in what is today Tanzania's Gombe National Park more than 50 years ago. Little did she know at the time that she was about to embark on a groundbreaking chimpanzee behavioral study that would rock the scientific community and redefine our understanding of animals and, ultimately, ourselves. Likewise, she probably never imaged that she would one day leave Gombe and begin a quest to empower others to make the world a better place for people, animals, and the environment we all share.
In her speech, Goodall will bring her audience into the world of the Gombe chimpanzees, from her early observations and experiences to the latest news and stories from the field. She also will share information about the work of the Jane Goodall Institute, which continues her pioneering research. Celebrating its 36th anniversary in 2013, the institute is a global leader in the effort to protect chimpanzees and their habitats. For more information, visit http://www.janegoodall.org
Follow the conversation on Twitter @LafCol #JaneGoodall before, during and after the event.
###
Photo: Jane Goodall, Ph.D., DBE; Founder, the Jane Goodall Institute & UN Messenger of Peace
© Stuart Clarke
________
Lafayette is a highly selective, national liberal arts college in Easton, Pa. with 2,400 students and 215 full-time faculty, offering a wide variety of undergraduate degree programs including engineering.
Kathleen Parrish
Associate Director of Media Relations
Lafayette College
Communications Division
Easton, PA 18042
parrishk(at)lafayette(dot)edu
610-330-5524
http://www.lafayette.edu