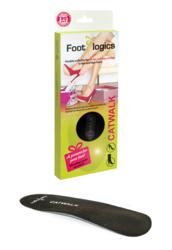 Catwalk insoles are the perfect and most important wedding gift that a bride can give herself
Vancouver, BC. Canada (PRWEB) May 08, 2013
The 2013 wedding season is fast approaching and brides everywhere are madly rushing off to dress fittings, cake tastings, meetings with venues, caterers, officiates and shoe shopping. "Everything counts to make a bride's wedding day the most perfect ever," says Lorna Boyle, President of Footlogics Canada.
Comfort isn't often found when shopping for sky high heels, peep toes, kitten heels, sling backs and even flats....cue the Footlogics' Catwalk. The Catwalk high heel insole is the perfect accessory for any mother-of-the-bride, bridesmaid or bride-to-be.
The Catwalk is a thin, flexible insole, which is slipped into the shoe. This breakthrough in high heel comfort distributes the body weight evenly, taking the pressure off the ball of the foot, hence, making women's shoes more comfortable to wear for longer hours.
Besides the choice of groom, the dream dress and perfect hair, shoes are quite possibly the next most important thing to a bride when planning a wedding. After all, shoes make the outfit.
Brides want to look amazing. There are vows to exchange, cheeks to kiss, hugs to give and dances to boogie down to. The bottom line is brides don't want to be slowed down by sore feet. Brides want to be as comfortable as they can possibly be.
Lorna Boyle, "Catwalk insoles are the perfect and most important wedding gift that a bride can give herself."