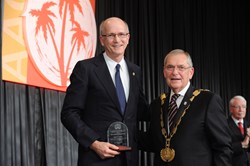 'Dr. Parker, thank you for reminding us of why we became oral and maxillofacial surgeons,' said AAOMS President Miro A. Pavelka, DDS, MDS
Garden Valley, TX (PRWEB) October 25, 2013
Gary R. Parker, DDS, received the AAOMS Humanitarian Award for Fellows and Members on October 9 during the opening ceremony of the 95th Annual Meeting, Scientific Sessions and Exhibition of the American Association of Oral and Maxillofacial Surgeons (AAOMS) in Orlando, Florida, in recognition of his work with Mercy Ships.
"As I watched the flow of people boarding the Africa Mercy in search of a miracle, I had a better understanding of the satisfaction and joy that have bound Gary Parker and his family to this life of service," said AAOMS President Miro A. Pavelka, DDS, MDS, when presenting the award. "Dr. Parker, thank you for reminding us of why we became oral and maxillofacial surgeons."
Dr. Parker earned his dental degree from UCLA School of Dentistry and completed his residency in oral and maxillofacial surgery at UCLA Hospital and Medical Center. After his residency training, he spent five years as senior registrar, North Wales Oral and Maxillofacial Surgery Unit, Glan Clywd Hospital in North Wales, United Kingdom.
In 1987, Dr. Parker joined Mercy Ships, an international charity founded in 1978, and became a ship surgeon on the Anastasis. Thus began his dedication of his life's work to Mercy Ships' humanitarian service. He currently serves as Chief Medical Officer onboard the 16,500-ton Africa Mercy, where he lives with his wife and children. The Africa Mercy is the largest non-governmental hospital ship in the world, providing free surgical and transformational healthcare.
Mercy Ships uses hospital ships to deliver free, world-class healthcare services, capacity building and sustainable development to those without access. Focused on Africa for the past 20 years, the Africa Mercy is currently docked in Pointe Noire, Republic of the Congo. During the ship's 10-month stay in port, Mercy Ships plans to provide over 3,300 surgeries for adult and child patients onboard, to treat more than 20,000 at land-based dental and eye clinics renovated for the purpose, and to provide holistic healthcare education to over 240 Congolese healthcare professionals and 830 community leaders.
Healthcare education programs model and encourage compassion and promote transformational development in the health sector. Dr Parker is involved with one-on-one mentoring opportunities with Congolese surgeons during the ship's stay in port. Other professionals onboard will lead internationally recognized courses as well as structured observation in the Africa Mercy hospital.
About Mercy Ships:
Mercy Ships uses hospital ships to deliver free, world-class healthcare services, capacity building and sustainable development to those without access in the developing world. Founded in 1978 by Don and Deyon Stephens, Mercy Ships has worked in more than 70 countries providing services valued at more than $1 billion, impacting more than 2.42 million direct beneficiaries. Each year Mercy Ships has more than 1,600 volunteers from more than 45 nations. Professionals including surgeons, dentists, nurses, healthcare trainers, teachers, cooks, seamen, engineers, and agriculturalists donate their time and skills to the effort. Mercy Ships seeks to transform individuals and serve nations one at a time. For more information click on http://www.mercyships.org.
Hi-res photos and general Mercy Ships video footage are available upon request.
For more information:
U.S. Media Liaison: 903-939-7000
us.media(at)mercyships.org
http://www.mercyships.org
ABOUT AAOMS: More than 5,000 registrants, including oral and maxillofacial surgeons from around the world, attended the AAOMS Annual Meeting, where they conducted association business, discussed surgical procedures, earned continuing education credits and met with dental industry suppliers.
Saving Face | Changing Lives® — The American Association of Oral and Maxillofacial Surgeons (AAOMS), the professional organization representing more than 9,000 oral and maxillofacial surgeons in the United States, supports its fellows' and members' ability to practice their specialty through education, research and advocacy. AAOMS fellows and members comply with rigorous continuing education requirements and submit to periodic office anesthesia evaluations.
For further information check the AAOMS Website at http://www.aaoms.org or contact Jan Teplitz, jteplitz(at)aaoms.org, 847-678-6200 extension: 4336