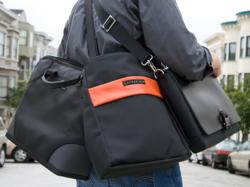 This is a humbling moment," shared company owner, Gary Waterfield. "There was overwhelming support from customers.
San Francisco, CA (PRWEB) June 25, 2013
San Francisco manufacturer, WaterField Designs, has been named "Favorite Bay Area Small Business" for 2013 by San Francisco's 7x7 Magazine.
The magazine gathered nominations from their readership, narrowed the field to the top twenty local merchants and then asked readers vote for their favorite. As winners of the contest, WaterField Designs receives an integrated marketing package from "7x7 Magazine" valued at $5,000.
"This is a humbling moment," shared company owner, Gary Waterfield. "There was overwhelming support from customers. I'm glad they find the products we make useful and appreciated that we're always happy to help them out."
WaterField Designs is a local manufacturer of custom laptop sleeves, bags and cases for digital gear. Their commitment to maintaining all manufacturing in San Francisco; dedication to creating the highest quality, long-lasting products; and unusual devotion to kind and thorough customer service, has resulted in a loyal customer following for the 15 years they have been in business in San Francisco.
"7x7 Magazine" is a premier, city-living insiders' guide to fashion, lifestyle and culture, in digital, print, and mobile covering the San Francisco Bay Area. Nomination criteria for companies eligible for the award were: less than $5M annual revenue, less than 100 full-time employees, in business for more than two years and within the 7x7-determined Bay Area counties.
Nominating readers had the opportunity to submit reasons for their choice, which included the following sampling:

"SFBags makes a superior, reliable product, which they combine with exceptional service to customers, all of whom they treat as friends."
"Always a great experience ordering from Gary and his crew. From the hand-written notes in every order to the high quality sewing work on each bag, you can't go wrong with SF Bags."
"WaterField Designs has the best customer service of any business in San Francisco (or otherwise). They answer emails and instant chats right away, resolve any issues with kindness and courtesy, and their bags and cases are of the highest quality ever. They make *all* their gear in San Francisco (and don't just *claim* to as do some of their competitors.) Great company."
About WaterField Designs
WaterField Designs manufactures custom-fitted, high-quality cases and bags for a full-range of laptop computers, smartphones, and other digital gear. All products are manufactured to exacting standards entirely in San Francisco. More information is available at the About Us tab on the WaterField Designs website.