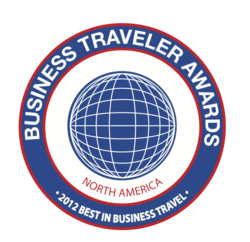 Portland, OR (PRWEB) January 10, 2013
FlightStats, Inc. the industry-leading publisher of global day-of-travel data services and applications, is pleased to announce that FlightStats has been chosen by Business Traveler readers as the Best Mobile Travel App in the category of Best Traveler Tools and Productivity Boosters.
FlightStats mobile apps provide quick access to flight, airport and airline status, for business and leisure travelers. The applications provide global coverage and are the most feature-rich free mobile travel apps on the market:

Worldwide flight status by flight number, airport or route
Essential information like departure/arrival times, airport delays, gate assignment and local weather
Flight tracking on zoomable maps
Flight timelines listing all status updates
FlightStats offers a mobile website (m.flightstats.com), an Android App (Traveler by FlightStats) and iPad App (AirportZoom) and a just released iPhone App, FlightStats.
"As business and leisure travel has grown so too have the problems associated with air travel. This coupled with the fact that there are few empty seats available means travelers need to be well informed about delays, cancellations and other critical airport information," said FlightStats President and co-founder, Jeff Kennedy. "At FlightStats we strive to provide the best and most timely day-of-travel information to help travelers and those tracking travelers well informed."
For 24 years Business Traveler readers have voiced their preferences for the top products and services from the entire spectrum of travel based on their own experiences. The 2012 Best in Business Travel Awards honors 41 different travel service companies in 64 different categories broken down in groups according to industry sectors, geographical regions or areas of focus. More information on the awards can be found at the Business Traveler Website.
About FlightStats
FlightStats is a leading provider of day-of-travel data services and applications to the travel industry and traveling public. The company delivers real-time global flight tracking and airport data services that power many of the world's most popular travel applications. The company also provides web and mobile applications to the FlightStats community, helping travelers to better manage their travel day. FlightStats' data is viewed by millions of people each month, and the company is constantly evolving to offer the best worldwide alerting and tracking services to travelers, and the agencies and developers who serve them. For more information visit http://www.flightstats.com or follow us on Twitter @flightstats.
###