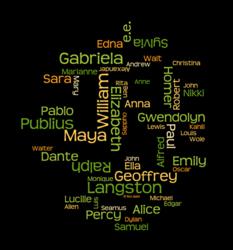 Slow down and savor a poem. Let poetry take you somewhere new.
Santa Cruz, CA (PRWEB) April 26, 2013
Tees For Your Head designer Karin Carter "met" Monique Van Den Berg online. Carter came across Van Den Berg's writing and contacted her about collaborating on several contemporary quilt/poetry projects. Van Den Berg was willing to jump into a project with a complete stranger, and three of the collaborative pieces they created were accepted into Visual Verse, a nationally-exhibited art show.
When Carter eventually co-founded Tees For Your Head, she thought again of Van Den Berg, a talented poet who also teaches, writes a blog called Big Fat Deal, and is raising a family. Monique describes Big Fat Deal as "a body positivity blog that is inclusive to people losing weight and people happy to be whatever weight they happen to be."
The two have teamed up to release two t-shirts featuring her poems. Tees For Your Head also created a shirt honoring a long list of poets.
"Monique has some beautiful poetry, and unfortunately, it turns out to be difficult to print poems on shirts. The problem is that fabric is a bumpy surface, so type has to be clean and large enough to be readable. That means the poems have to be short," explains Carter. "There were many of Monique's poems I had to pass up because they just wouldn't fit on a t-shirt."
The poems are now available on tees in sizes from toddler to 6XL. Carter says that as she worked on the poem titled Curves, "The design kept getting more and more simple as I encountered technical difficulties. For example, one idea I had was to print a semi-transparent moon photo behind the poem. It made the poem impossible to read, no matter what I did." The stylized drawing on the shirt alludes to the night moon and the eggs mentioned in the poem.
Balloongirl is a narrative poem with a story that also seems related to Van Den Berg's blog. "I loved the imagery Monique packed into this very short work, and I was glad it fit onto shirts. Even the tiniest toddler size can handle it," says Carter. "How fun is it to have portable poetry? I hope it starts some great conversations."
Creating a list of the top poets of all time is never going to be a simple task, but Tees For Your Head hopes that poetry lovers will enjoy identifying the poets who made the list, and the public is welcome to submit suggestions for additions. Poetry lovers can order the Poets t-shirt to mull over the choices at length.
Carter hopes that readers will be able to "slow down and savor a poem. Let poetry take you somewhere new."
About Tees For Your Head
The online home of geeky t-shirts for lovers of the arts and sciences was launched in 2012. Husband and wife team Tom Bates and Karin Carter have an arts and science background and create their own designs to appeal to the geeks of the world. Santa Cruz tee shirt designs are in the works for this Santa Cruz-based business.
By the way, Tees For Your Head t-shirts are worn on the body, not really on the head. Just a helpful hint.
Find their unique and nutty tees at http://www.teesforyourhead.com online now.