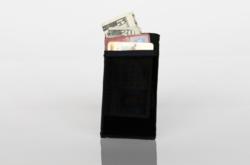 We tailored a custom-fitted HTC One Suede Jacket—our 'barely there' smartphone case that helps to keep the device clean and protected
San Francisco, CA (PRWEB) April 24, 2013
WaterField Designs, an innovative leader in locally-manufactured laptop sleeves and designer bags and cases for digital gear, introduces its custom-sized, HTC One Case—the Ultrasuede® HTC One Suede Jacket™. The Suede Jacket, available in classic black, scratch-free microfiber material, adds no bulk to the HTC One and helps to keep the phone's screen clean.
The HTC One Suede Jacket™

Snug-fitting, ultra-thin case made from 100% Ultrasuede® with stretch memory
Scratch-free protection from bumps and scrapes
Case helps keep screen clean and can double as a screen cleaner for other devices
Wallet option: Add a strong, stretchy, rear pocket for storing credit cards, cash and ear-buds.
Available in classic black Ultrasuede®
Designed to keep the HTC One and its accessories all together and tangle-free
Custom-sized, padded interior compartments
Self-locking YKK zippers
Water-resistant, easily-cleaned fabric available in six color choices
Three sizes maintain thin and compact shape, even when fully packed
"The HTC One ranks highly in every review we've seen," noted Gary Waterfield, company owner. "We tailored a custom-fitted HTC One Suede Jacket—our 'barely there' smartphone case that helps to keep the device clean and protected."
Availability & Pricing
The HTC One Suede Jacket—Prices: $10. With pocket $14. Classic black.
The Smartphone Travel Case—Prices: Small: $35. Medium: $37. Large: $39.
Colors: Black, blue, brown, green, red, and silver.
The HTC One Suede Jacket and Smartphone Travel Case are available now at sfbags.com.
About WaterField Designs
WaterField Designs manufactures custom-fitted, high-quality cases and bags for a full-range of laptop computers, tablets, smartphones, and other digital gear. All products are manufactured to exacting standards entirely in San Francisco. More company information is available under the website "About US" tab.