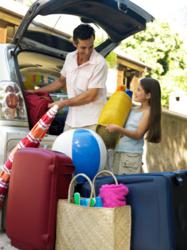 Irving, Texas (PRWEB) May 22, 2013
Memorial Day is a highly anticipated holiday since it marks the unofficial start of summer vacation. This year, nearly 30 percent of Americans will use the three-day weekend as a reason to pack their bags and head out on the first trip of the season. But whether you're celebrating the holiday with an extravagant getaway or simply taking a quick weekend road trip, it's important to consider your safety.
Here are a few tips from the Electronic Security Association (ESA) that can help make your vacation both safe and fun.
Prepare your home before you leave
You may be heading out for a few days of fun, but you will be leaving your home and most of your valuables behind. For maximum protection, consider installing an enhanced home security system complete with strategically placed surveillance cameras. With smart home technology, you can log in from your smart phone or web-enabled device and view a live video feed within your home no matter where you travel. In addition, you'll never have to worry about unlocked doors or cooling an empty house. Your enhanced system gives you the power and convenience to remotely secure your home or adjust the temperature with the push of a button.
You can create the smart home of your dreams by working with a SECURE+ integrator. This elite group of enhanced home security professionals offers high-quality solutions that will fit into your lifestyle and budget. You can find a SECURE+ integrator near you by visiting http://www.secureplusweb.org.
Use common sense while on vacation
Technology isn't the only crime prevention tool available. In fact, sensible thinking can help you avoid troublesome situations. Here are a few ways that common sense can keep you safe while on vacation.

Always keep your cell phone charged and powered on, especially if you are alone.
Keep your automobile full of gas to ensure you won't be stranded in an unfamiliar area.
Avoid exploring unknown areas alone. If you must go alone, map out your route and inform someone you trust of your whereabouts and what time you will return.
Take notice of your surroundings. If you feel unsafe or see suspicious activity, call 911 immediately.
Map out the exits of your location to ensure you know how to evacuate in an emergency situation.
Be prepared for emergencies
No one plans on having a lost bag or roadside emergency, but it happens. Fortunately, with a little forward thinking and preparation, you can make those bumps in the road a little smoother.
Nearly 1.8 million bags were lost, stolen or damaged by airlines in 2012. While that number is considered a drastic improvement compared to previous years, seasoned travelers still get a little anxious when they step up for a game of baggage claim roulette. Unfortunately, there isn't much you can do to ensure you don't end up empty handed. But you can avoid further distress by always packing a carry-on bag that contains a change of clothes, medicine and toiletries that you may need until your bag is returned. You may also consider scanning important travel documents and emailing them to yourself so you will still have your records should the hard copies be nested away in a missing bag.
If a road trip is in your future, create an emergency bag with survival essentials. The bag should include items such as gloves, a change of clothes, flashlight, shovel, first aid kit, water, money and non-perishable food. If you have a cell phone, you may want to invest in a travel charger to use in your car.
With a little preparation and common sense, you can kick back and enjoy a long, well-deserved vacation this Memorial Day. For more tips on staying safe both home and away, please visit http://www.alarm.org.