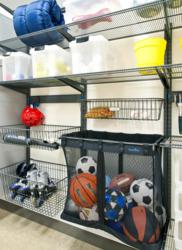 Organized Living garage systems will make favorite hobbies more enjoyable and weekend chores a breeze!
Cincinnati, OH (PRWEB) May 09, 2013
Organize the garage and save 25% during the Organized Living June garage sale. With strong solutions to organize anything from sleek skis to bulky lawn equipment, Organized Living garage organizing systems will make favorite hobbies more enjoyable and weekend chores a breeze!
Up and Away
Organized Living Garage Activity Organizers organize anything from tools to sports equipment and add flexibility to the garage. The 2' x 4' grid attaches directly to the wall and can be customized with storage accessories like tool hooks, garden baskets and ball organizers. Activity Organizers adjust easily to adapt to any family's changing needs. Solutions start at $10.
Freedom to Change
freedomRail garage storage systems offer the most versatility for families. freedomRail Garage is the only complete garage solution with cabinets, shelves, work tops and a huge selection of accessories. Plus, it's easy to install, simple to adjust and incredibly strong to withstand even the heaviest loads. Solutions start at $200.
Glorious Go-Boxes
GO-Boxes, short for Garage Organization Box, are modular cabinets that offer shelves with doors, drawers and cubbies to keep items safe and secure. They hold everything from paint cans to golf clubs to gardening supplies and work with the freedomRail system and wih shelves and accessories. Solutions start at $125.
Customize It
Hooks and baskets keep clutter off of the garage floor. The Big Mesh Sports Basket organizes balls, sports equipment and pool supplies. freedomRail hooks and baskets store rakes, garden hoses, utility cords and more. No matter what is being stored, the heavy-duty, locking accessories can handle it. Solutions start at $10.
Adding efficient storage in the garage or throughout the home is easy. For design inspiration, visit OrganizedLiving.com where you can choose from thousands of designs tailored to fit your needs, style and budget. Plus, save 25% from June 1 to June 30 on all freedomRail Garage storage and Activity Organizers.
For more information on Organized Living's full family of products, visit OrganizedLiving.com.
About Organized Living
Organized Living brings superior storage and organization to the world through strong products, strong people and strong brand, helping people organize their lives. From the closet to the kitchen to the garage, Organized Living offers high-quality, innovative storage and organization products that make everyday life easier and sells through professionally installing dealers, retailers and online retailers. http://www.OrganizedLiving.com.
###