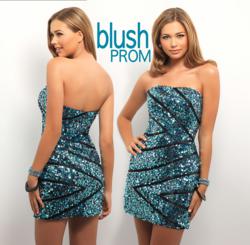 Blush dresses are consistently among the top sellers
New York (PRWEB) December 20, 2012
Shipping dates have started and the Blush Prom 2013 Prom Dresses are hitting retailers across the country.
"My boutique in Indianapolis has started to get phone calls about the Blush collection this year," said store owner and Blush retailer, Alison McDaniel. "My staff was so excited when we received part of our order so that our customers can start trying on and finding their perfect Blush Prom dress."
As a top designer in the prom industry, the 2013 Blush Prom collection is a must-have for retailers this year.
"The showroom in Atlanta was flawless with by far one of the best collections, and the sales reps were ready to help," McDaniel said. "Blush dresses are consistently among the top sellers at RaeLynn's Boutique in Indianapolis and everyone at Blush is awesome to work with."
Known for always having an excellent inventory, designer dresses from Blush will be found in retail stores across the United States. The staff at Blush Prom encourages any customer who would like to wear one of their elegant designs to prom to head to a local retailer and try on the Blush dresses to ensure what style and color they will like best. It doesn't take long to fall in love with Blush Prom.
About Blush Prom by Alexia
For over 30 years, Alexia Designs has been creating beautiful dresses for all occasions. Blush Prom, the high fashion division of Alexia Designs, offers dresses for proms, pageants, homecoming formals and other social occasions. You can view all of their dresses at http://www.blushprom.com