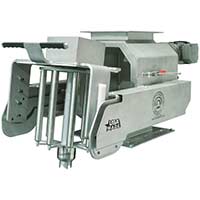 Boyne City, MI (PRWEB) May 30, 2013
Industrial Magnetics, Inc. has just released the newest version of their SimpleClean™ RotoDrawer™ magnetic separator which offers improved ergonomics and an easier cleaning experience for the operator when removing captured metal contaminants from Powder & Bulk processed products.
The RotoDrawer rotary style magnet was designed to capture ferrous metal contaminants from gravity fed, powder & bulk processed products that have difficult flow characteristics and a tendency to bridge or choke when using traditional, stationary, tube-style magnetic separators, such as cake mixes, flours or corn starch.
Featuring a motorized, cylindrical configuration of Rare Earth magnetic tubes that continually rotate through the product stream, the RotoDrawer keeps the flow moving through the housing, while capturing any ferrous metal contaminants and purifying the product.
The new, SimpleClean design gives the operator easy access to the magnets to perform recommended, routine removal of collected metal to prevent re-contamination of the product stream. The ergonomic design of the magnetic drawer allows it to weightlessly glide open on a fixed track and smoothly rotate into vertical orientation. Once in cleaning position, the indexing magnetic tube assembly brings each tube to the forward position, allowing the operator to wipe collected metal downward into a catch bin, without having to bend or squat to reach posterior tubes.
Standard sizes range from 8"x8" to 18"x18" inlets and outlets, with custom designs and sizes available to fit your exact application requirements. For more information, visit the RotoDrawer page on the company's website at http://www.magnetics.com to download technical product documentation (registration required).