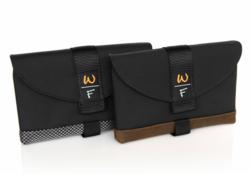 "We offer our customers choices so that they can find a unique case that feels just right for their use and style."
San Francisco, CA (PRWEB) April 11, 2013
WaterField Designs, a leading San Francisco manufacturer of custom-fitted laptop sleeves, bags and cases for digital gear, announces new Samsung Galaxy Note 8 tablet cases—a custom-fitted Tablet Ultimate SleeveCase for rugged protection and a Suede Jacket Tablet Case for lighter protection.
"The new Samsung 8-inch display Galaxy Note tablet is available today and we're prepared to help consumers protect the device with a custom version of our award-winning Tablet Ultimate SleeveCase and our innovative Suede Jacket tablet sleeve," explained WaterField Designs owner, Gary Waterfield. "We offer our customers choices so that they can find a unique case that feels just right for their use and style."
Galaxy Note 8 Ultimate SleeveCase: A water-resistant, ballistic nylon shell envelops shock-absorbing neoprene for ultimate protection. A screen-protecting plastic insert keeps the exposed screen safe from damage. Choice of trim color and optional d-rings and strap. TSA-friendly.
Galaxy Note 8 Suede Jacket: Snug-fitting, scratch-free, TSA-friendly Ultrasuede® sleeve for the Galaxy Note 8 tablet. Small pull-tabs ease tablet in/out. Can double as a screen-cleaner.
Pricing & Availability
Ultimate SleeveCase: $59 (+ optional add-ons). Black with grey checkered Indium™ or brown, leather trim.
Suede Jacket: $15. With optional pocket: $21. Black Ultrasuede®.
The Tablet Ultimate SleeveCase and the Suede Jacket for the Samsung Galaxy Note 8 are available now for pre-order. Cases begin shipping April 30, 2013.
About WaterField Designs
WaterField Designs manufactures custom-fitted, high-quality cases and bags for a full-range of laptop computers, tablets, smartphones, e-readers, and other digital gear. All products are manufactured to exacting standards entirely in San Francisco. More at the company website About Us page.