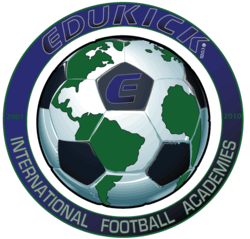 Toronto, Canada (PRWEB) September 12, 2012
EduKick welcomes "International Student-Soccer Players" from 13-24 to their academic Half-Year Soccer Academy Courses beginning in January in England, Spain, France, Italy, Brazil, Mexico, Canada and USA.
With the year-long academy players now arrived and settling into their new lifestyles as international student-soccer players abroad, EduKick now opens enrollment for their Half-Year registrations. The Half-Year Courses, for players interested in attending for six months only, begins in January 2013 and finishes at the end of May 2013.
EduKick International Football Academies (EIFA), a web-based company founded in California in 2001 by long time soccer pals Corey Zimmerman and Joey Bilotta, operates academic year residential soccer academy boarding schools in eight venues across the globe. This week in Toronto EIFA announced the opening of "Winter Registration" for their HALF-YEAR Soccer & Education Courses abroad.
EIFA founder and President, Joey Bilotta, explains; "Exchange programs have been around since our parents were in High School and before. EduKick provides competitive players a chance to live, study and train daily in traditionally strong footballing nations abroad. Think of EduKick as an international exchange program for serious soccer players. The Half-Year course allows competitive players around the world the opportunity to join our year-long academy players for the remaining 6 months of the course, allowing plenty of time to delevop as a soccer player, learn a new a language and mature as a young person."
Currently, EduKick venues in England, France, Spain, USA and Canada are in full swing with international footballers having arrived from around the world to participate the year-long program, which is nine months in duration and coincides with the academic year (September to June). Half-Year EduKick registrants will simply join the year-long players at the venue of their choice for the final six months of the academic year course.
Players joining the half-year course study the foreign language of the EduKick country venue they choose (i.e. Spanish in Spain, French in France, etc.). However, Native English speakers that choose the EduKick Manchester venue study a BTEC Certificate Program in Sports Science. A two-year BTEC Diploma course actually qualifies one for entry into the UK University system, an academic pathway that attracts many international student-footballers to EduKick Manchester.
Interested parties should watch some of their online videos to learn more about the eight EIFA venues worldwide and what option may be best for you.
EduKick International Football Academies (EIFA) Mission: To operate the world's leading international soccer/football and education academy boarding schools; building strong business relationships in a vibrant, creative and ethical international football environment. To teach, inspire and create the best technical footballers possible and create international students with inter-cultural competence (ICC) enabling them to compete in the modern competitive world.