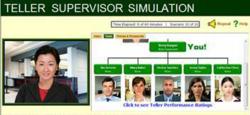 The new simulation . . .pinpoints top leadership talent and creates personalized plans for ongoing leadership development.
Winter Park, FL (PRWEB) March 28, 2013
Employment Technologies, the world's leading developer of employment simulations, today announced the release of its new EASy Simulation® - Teller Supervisor. The new simulation uses high-end graphics and 3-D avatars to create a highly realistic and engaging candidate experience that pinpoints top leadership talent and creates personalized plans for ongoing leadership development.
"In selecting teller supervisors," explains Employment Technologies president, Joseph Sefcik, "it's common for organizations to simply promote their top tellers. Unfortunately, the new supervisors are often uncomfortable or unprepared for their new roles. As a result, organizations may have an ineffective new supervisor—while also losing one of their best tellers."
"That's why we're thrilled to offer banks and credit unions an innovative tool that helps them in three key ways," states Sefcik.
1 - Hire New Supervisors – identifies candidates who already have superior leadership and supervisory skills.
2 - Develop Current Supervisors – optimizes the performance of existing supervisors by assessing and refining their leadership skills.
3 - Identify and Develop Future Supervisors – discovers leadership potential among current tellers and helps them develop and transition into high-performing supervisory roles.
ETC's scientific results demonstrate that supervisors who score the highest on the Teller Supervisor Simulation are:

Three times more likely to effectively resolve customer complaints and personnel issues
Twice as likely to successfully identify and manage risk
Twice as likely to exceed objectives
Nearly two times more likely to coach and mentor effectively
The fully immersive Teller Supervisor Simulation gives candidates the feeling that they're actually interacting with tellers and customers. Candidates can explore each aspect of the job and handle the same challenges supervisors face on a daily basis. Not only is the simulation more fun and engaging than a traditional employment test, it also delivers the highest accuracy in predicting job success.
"Teller Supervisor Simulation offers pricing models to fit every budget, ranging from per-simulation pricing to annual licenses with volume discounts," explains Sefcik. To request a free preview of the Teller Supervisor Simulation,click here, or contact an EASy Simulation representative at 816.919.0095.
About Employment Technologies
Employment Technologies is the pioneer and world's #1 developer of employment simulations. For more than 20 years, EASy Simulations have been helping financial services organizations improve hiring, decrease turnover, increase service ratings, and boost revenue. A five-time winner of the Human Resource Executive Top HR Product of the Year award, Employment Technologies offers a suite of products specifically for financial services hiring and development. For more information, click here or call 816.919.0095.