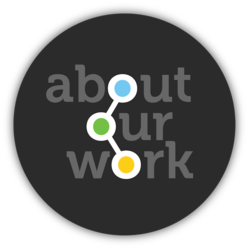 "With MatchUp, its B2B recommendation engine, AboutOurWork will identify opportunities among those 97 percent of U.S.-based small businesses - wedding planners with wedding photographers, web designers with web developers, and more... automagically,"
Columbus, Ohio (PRWEB) February 27, 2013
Today, AboutOurWork, a web-based small business connection network, introduces its proprietary B2B recommendation engine, MatchUp™, making the process of discovering new business opportunities easier than ever.
AboutOurWork, often described as the "eHarmony for small businesses," identifies and automates B2B introductions for the small business community. Small business owners can create a free company profile at http://www.aboutourwork.com, and MatchUp will intelligently recommend potential business connections for them, using key data points from the profile.
"Even with the advent of social networking, the major networks and business directories have failed to contribute to the small business community in a meaningful way, particularly businesses focused on B2B relationships," said David Hunegnaw, co-founder and chief executive officer, AboutOurWork. "Even though serendipitous business-to-business opportunities abound online, many of the existing channels provide more noise than signal to the business owner."
Over 97 percent of all businesses in the U.S. are considered small businesses, with fewer than 10 employees. "With MatchUp, AboutOurWork will identify opportunities among those 97 percent of U.S.-based small businesses - wedding planners with wedding photographers, web designers with web developers, and more... automagically," Hunegnaw continued.
"In today's fast paced business environment, it can be difficult for entrepreneurs to get too far away from the core activities of their business," said Michael Bowers, director, Ohio Small Business Development Center. "With minimal time for networking, how do they find the right partners and people to work with that will allow them to succeed? AboutOurWork.com is helping solve that problem through their 'MatchUp' system of facilitating business connections on the web. This online network building is a revolutionary step forward for small business owners looking to strengthen their organizations and expand their reach in the market."
About AboutOurWork
AboutOurWork, based in Columbus, Ohio and led by central Ohio serial entrepreneurs David Hunegnaw and Brooke Paul, is on a mission to connect small businesses, redefining how they network and connect with each other to accelerate their success. Uniquely positioned to be a disruptive force in the social business networking landscape, AboutOurWork features its proprietary B2B recommendation engine MatchUp™, which makes it easy for small businesses to connect by identifying potential client, vendor and partnership opportunities and automating the introductions that need to take place among those businesses. To sign up for a free profile or to learn more, visit http://www.aboutourwork.com or follow AboutOurWork on Twitter, @AboutOurWork.