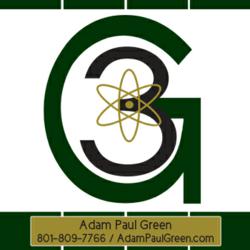 (PRWEB) April 10, 2013
Creative Juneau, Alaska business owner Adam Green visits Lincoln, Nebraska and recognized Gem Morris (Mona Vie) as G3 Week 3 'Top Social Media 101 Super Star' award winner
Results from Week # 3
To learn more about the G3 Weekly Award Program,
Contact G3 President Adam Green: adam(at)adampaulgreen(dot)com
G3 is an online social media evaluation company that independently examines, evaluates and recognizes individual professionalism from the Network Marketing and Direct Selling Industries.  Each week G3 is proud to award our "Certificates of Excellence" to the top leaders from both of these influential industries for their incredible dedication to their craft.  G3 recognizes individual unique talents, skills and abilities.  There are 10 different categories of awards given each week. Within each category is a first place award (Gold), second place award (Silver) and third place award (Bronze).
http://www.directselling411.com/about-direct-selling/
When people needed or wanted something in the old days, they'd look up information in the yellow pages.  Today, people turn to search engines to find what they want or need.  Each day, on average, Google searches currently total over 250,000,000.  When people are looking to purchase something they want/need, more-and-more they're going "on line" to find out what other people think or say about a certain product, service or brand.  The relevancy that influences people's buying behavior is other people's conversations.  That's if they can find your conversation and if it provides the value that people are looking for.  If one learns "how" to use social media correctly then they will understand "what" the market is looking for and "where" they are looking.   The Ten G3 Award Categories are:
(1) Online Professionalism
(2) Online Creativity
(3) Uniqueness in Marketplace
(4) Social Media Super Star
(5) Relationship Builder
(6) Facebook Monster
(7) YouTube Monster
(8) Twitter Monster
(9) Work-a-holic's Anonymous
(10) International Humanitarian
Industry representative, the World Federation of Direct Selling Associations (WFDSA), reports that its 59 regional member associations accounted for more than US$114 Billion in retail sales in 2007, through the activities of more than 62 million independent sales representatives.  The United States Direct Selling Association (DSA) reported that in 2000, 55% of adult Americans had at some time purchased goods or services from a direct selling representative and 20% reported that they were currently (6%) or had been in the past (14%) a direct selling representative.  According to the WFDSA, consumers benefit from direct selling because of the convenience and service it provides, including personal demonstration and explanation of products, home delivery, and generous satisfaction guarantees.  In contrast to franchising, the cost for an individual to start an independent direct selling business is typically very low with little or no required inventory or other cash commitments to begin.
Most direct selling associations, including the Bundesverband Direktvertrieb Deutschland, the direct selling association of Germany, and the WFDSA and DSA require their members to abide by a code of conduct towards a fair partnership both with customers and salesmen. Most national direct selling associations are represented in the World Federation of Direct Selling Associations (WFDSA).  Direct selling is distinct from direct marketing because it is about individual sales agents reaching and dealing directly with clients. Direct marketing is about business organizations seeking a relationship with their customers without going through an agent/consultant or retail outlet.
The Real Reasons Why To Use Social Media:
1. If a business can't be found — one is not engaging with the "True Market."
2. Social Media (YouTube) is 64% more effective — than traditional advertising.
3. The "True Competition" — is guaranteed to be engaged in Social Media.
4. They will find customers — 15 times faster with Social Media.
5. They can reach their "True Market" — by simply engaging the right people.
6. By ignoring this Social Media Market, they are not creating opportunities –
while their competition is.
7. Social Media saves massive amounts of time and money — if they uses it right.
"When" their customers and prospects are engaging about them, the industry or the products and services — they need to be there listening.  Otherwise, how will they gain the necessary market intelligence?  How will they be enabled to respond or even be aware of problems or needs?  If they are not present when and where the conversations are occurring, their truly "out of touch" with the market.
Mission Statement:
To proactively serve our business community by providing solutions in entrepreneurialism, business development, social media and venture capitalism.
Vision Statement:
To provide leadership in establishing strength with our client's international businesses, being built on a foundation of innovation, advocacy, technology and business integrity