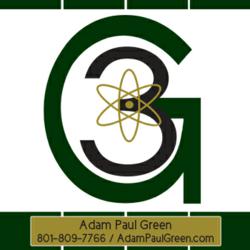 (PRWEB) April 22, 2013
Results from Week #1
Popular Springfield Illinois Online Business Owner Adam Green Visits Harrisburg Pennsylvania and Recognized Gem Morris, a successful Mona Vie rep, as he is awarded the G3 Week 1 'Humanitarian' Award Winner
To learn more about the G3 Weekly Award Program,
Contact G3 President Adam Green: adam(at)adampaulgreen(dot)com
G3 is an online social media evaluation company that independently examines, evaluates and recognizes individual professionalism from the Network Marketing and Direct Selling Industries.  Each week G3 is proud to award our "Certificates of Excellence" to the top leaders from both of these influential industries for their incredible dedication to their craft.  G3 recognizes individual unique talents, skills and abilities.  There are 10 different categories of awards given each week. Within each category is a first place award (Gold), second place award (Silver) and third place award (Bronze).
G3's Powerful Custom Content is usually indexed by a search engine within the first few days of being posted, however their clients may not see your site show in the top of search results for a few weeks or even months. However once they are near the top, it will be harder to displace them.
G3 Development develops powerful content that meets each of these objectives, and then provide it to the client using an advanced content engine that customizes it for their specific business. G3 technology allows them to incorporate the clients own keywords, location attributes, and marketing specifics into optimized content and insert it directly into their blog. And they do it every week, just for the client. All the cleint has to do is click to approve. They hold the ultimate publishing keys, and can even publish their own content if they have the time.
https://listpipe.com/register/?Affiliate=xocai
G3's Powerful Custom Content is designed to establish the clients 'organic' SEO strategy. 'Organic' SEO means that they are literally 'growing' a strong base of powerful content. Like any other organic process, this takes a little time, but is well worth the effort.
"BLOG POWER Video"
http://www.youtube.com/watch?v=zAVbK8oWZV8&feature=player_embedded#
Mission Statement:
To proactively serve our business community by providing solutions in entrepreneurialism, business development, social media and venture capitalism.
Vision Statement:
To provide leadership in establishing strength with our client's international businesses, being built on a foundation of innovation, advocacy, technology and business integrity