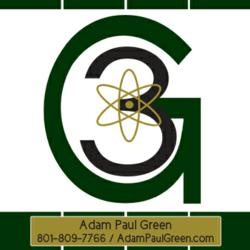 South Dakota (PRWEB) April 13, 2013
Flourishing Topeka Kansas Online Business Owner Adam Green Visits Pierre South Dakota and Recognized Felix Gudino (Xocai) as G3 Week 7 'Facebook Monster' Award Winner
Results from Week # 7
To learn more about the G3 Weekly Award Program,
Contact G3 President Adam Green: adam(at)adampaulgreen(dot)com
Adam Paul Green was born to a multi-talented beauty queen mother and a father who, in addition to being a US Army Spy and a Counter-Intelligence Special Agent, was also a highly accomplished entrepreneur.  Adam was taught at a young age that, in both life and business, loyalty is a requirement for success.  He's had the honor of working directly with his father in several of the family businesses.  In fact, this is where he learned crucial entrepreneurial skills and honed his talents with international business strategies and venture capitalism.
Adam earned his Bachelors of Science Degree in International Business and Marketing from the University of Utah.  He was hand-picked by the President of the University's renowned School of Business to compete with dozens of other ambitious nationwide-graduates for the opportunity to secure a lucrative job within a prestigious Fortune 100 company.
G3 is an online social media evaluation company that independently examines, evaluates and recognizes individual professionalism from the Network Marketing and Direct Selling Industries.  Each week G3 is proud to award our "Certificates of Excellence" to the top leaders from both of these influential industries for their incredible dedication to their craft.  G3 recognizes individual unique talents, skills and abilities.  There are 10 different categories of awards given each week. Within each category is a first place award (Gold), second place award (Silver) and third place award (Bronze).
Mission Statement:
To proactively serve our business community by providing solutions in entrepreneurialism, business development, social media and venture capitalism.
Vision Statement:
To provide leadership in establishing strength with our client's international businesses, being built on a foundation of innovation, advocacy, technology and business integrity