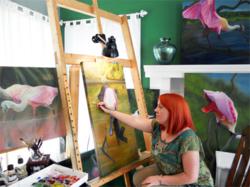 we should preserve our beautiful natural resources as well as share a worldwide understanding of their irreplaceable value
Atlanta, GA (PRWEB) May 06, 2013
In Allison's upcoming June 2013 art show in Atlanta Georgia, the artist depicts her fascination of Roseate Spoonbills with her oil on canvas collection "Ugly Pretty". These brilliantly colored bizarre birds that were once hunted almost to extinction for their bright pink and red feathers used to adorn women's hats and fans, now safely live on in her artistic work bringing awareness of birds through art.
Allison's paintings employ the use of impasto textured backgrounds underneath beautiful color saturated renditions of Roseate Spoonbills in their environment. Her ability to capture reflected color from sunlight and the bird's surroundings are just as wonderful as the birds playing, resting, and vying for attention as they gracefully take front stage on the canvases.
There is a parallel between the birds battle to regain their numbers from the few dozen pairs of surviving birds from the 1940's species protected state, and the endeavoring, unending labor of love that an artist brings to the table with their day in and day out battle to win our hearts with their vision. You can see this strength of conviction in Allison's work as she diligently breathed life into her creations through shape and color, just as she has given her art career a breath of its own as seen by her many fans and collectors.
Allison's collection "Ugly Pretty" will be held at Atlanta's much loved Blue Heron Nature Preserve's Art Gallery June 6th through August 31, 2013 with an opening reception June 6th from 6-7:30pm. Birders, Audubon lovers, readers of Charles Seabrook, conservationists, and art enthusiasts alike are all welcome to come and see Allison's climb to the top as she parallels her career with the stabilization of a species who's funny shaped spoon beaks can be seen anywhere from Georgia's Jekyll island all through the Southern coast of Florida, Texas, Louisiana, and South America.
The Blue Heron Nature Preserve's Art Gallery Buckhead location can be found at 4055 Rosewell Road in Atlanta Georgia. Art Viewings can be seen by appointment or along with the preserves many fun filled events and classes. More show information is available at Blue Heron Art Gallery or by calling 404-626-1891. High-resolution images are available are available within 24 hours upon request at Allison Richter's Art Studio. For more artist information, please contact Allison Richter at 678-531-2575 or allison(at)allisonrichterwildlifestudio(dot)com.
—END—