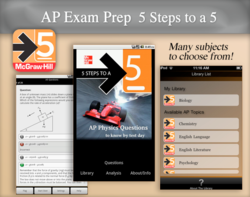 "Recent statistics show that approximately 40% of high school graduates who took at least one AP exam failed to score a passing grade of 3," says Philip Ruppel, president of McGraw-Hill Professional. "Our 5 Steps to a 5 content--in our study guides and on
Annapolis, MD (PRWEB) April 24, 2013
Spring is here. And for many high school juniors and seniors, that means Advanced Placement exams are right around the corner. Luckily for them, there is a mobile app designed to make studying for the AP exams much easier and a lot more fun. A collaboration between mobile app developer gWhiz and leading educational publisher McGraw-Hill Professional has led to the release of AP Exam Prep, now available for both Apple and Android devices.
With content derived from McGraw-Hill Professional's highly respected 5 Steps to a 5 series, AP Exam Prep takes a comprehensive approach to test prep. Currently, the app includes questions and detailed explanations for 14 AP subjects including Calculus AB/BC, Chemistry, English Language, English Literature, Environmental Science, European History, Human Geography, Microeconomics/ Macroeconomics, Physics, Psychology, Statistics, U.S. Government & Politics, U.S. History, and World History, with more to come. Free initial download of AP Exam Prep provides 25 questions in each subject with an additional 450 to 500 questions per topic available via in-app purchase.
"Here at gWhiz, we believe in the power of mobile to unlock doors for students striving to succeed," remarks Kevin Reville, gWhiz founder. "Our innovative mobile apps, including McGraw-Hill Professional's AP Exam Prep, allow students to have access to valuable reference materials and expert advice, right in the palm of their hands."
"Recent statistics show that approximately 40% of high school graduates who took at least one AP exam failed to score a passing grade of 3," says Philip Ruppel, president of McGraw-Hill Professional. "Our 5 Steps to a 5 content--in our study guides and on the AP Exam Prep app--provides students with effective exam preparation to help them to succeed."
Busy high school students are sure to appreciate AP Exam Prep's unique combination of compelling content and technological innovation, all in a portable, electronic format. With AP Exam Prep, students can optimize their test prep schedule, allowing for studying on the go, anytime and anywhere. Available for iOS and, now, Android devices, the app has everything that AP exam candidates need to maximize their score and, ultimately, obtain valuable college credit.
About gWhiz
Launched in 2008, gWhiz has established itself as a leading provider of engaging mobile educational applications. The company is focused on developing innovative educational software to foster a lifetime of learning for professionals and students of all ages. With hundreds of titles currently available on many platforms including the Apple's iOS devices, Android (including the Kindle Fire and Nook), BlackBerry, and Netbooks, the company's depth of experience is unmatched in the industry. gWhiz believes that contemporary mobile technology provides a unique opportunity to offer powerful, entertaining, on-the-go learning and student collaboration tools. For more information, go to http://www.gwhizmobile.com or visit us on Facebook or Twitter.