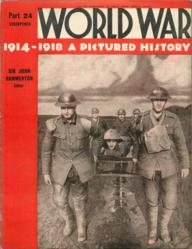 Dominic Hayhoe from Forces War Records said, "Some of these magazines are almost a hundred years old, and are a national treasure that shouldn't be lost. Now we have digitised them, they will be available for ever more."
(PRWEB UK) 24 April 2013
Forces War Records, the leading military records website, has recently digitised a wealth of historic documents spanning the past 100 years of war and conflict. Many of these publications chronicle the movements of regiments, ships and other units during the world wars and beyond, and are proving invaluable for research and family ancestry searches. The online library is easy to search, and new features include the ability to bookmark pages and highlight search terms on the page as well.
Cross-matched with Forces War Records' online database of military records from WW2, WW1, the Boer War, the Crimean War and beyond, this online document library now offers a comprehensive research facility for families looking to find information on relatives and loved ones, and for those interested in war history and military documents.
These historic war publications include official documents such as The Alamein Memorial Register published by The Imperial War Commission in 1941; British Prisoner of War Camps in WWI and WWII, published by The Red Cross & St John War Organisation in 1945; many pictures of soldiers and World War trenches; along with wartime newspaper articles; Home Guard instructions booklets published in the early 1940s, as well as Regimental Gazettes and Prisoner of War Journals.
Forces War Records is the only online database with over four million military records of British Armed Forces personnel exclusively cross matched with over 4000 Regiments, Bases and Ships of the British Armed Forces going back to before 1350. The site offers a complete service for those involved in family ancestry searches.