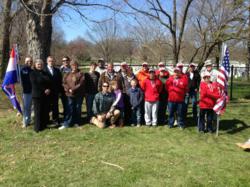 "We'd like to thank everyone who helped out, either by being here or by supporting us with donations of materials and money, and in prayer"--
NAFCA Vice President Scott Ruete
Arlington, VA (PRWEB) April 15, 2013
Representatives from Modern Fence Technologies joined members of the fence industry to replace a section of fence at the Arlington National Cemetery, as part of a multi-year improvement project taken on by the North American Fence Contractors Association. The project grew out of a desire to "give back" in a way that honors our nation's heroes, while building the professional fence community, and was open to members and non-members of NAFCA.
NAFCA arranged and promoted the event, which brought together patriots from all over the country, from inside and outside the fence industry to replace aging fences at Arlington National Cemetery. This year, using supplies donated by Stephens Pipe and Steel, the volunteer crew removed old, worn fence and replaced it with new six foot high black coated chain link fence.
A family event, several volunteers brought children and grandchildren both to help and to see the monument to America's heroes. "We'd like to thank everyone who helped out, either by being here or by supporting us with donations of materials and money, and in prayer", said Scott Ruete, Vice President of NAFCA.
In recognition of the support received for this project, the following is a list of the companies and individuals who participated: Materials, Stephens Pipe and Steel, Jack Long III, and Dave Holson Sr.
Labor, Bill Iams, Judy Iams, Jim Iams, Mary Iams, Clint Iams, Ethan Iams, Emily Iams, Sean Russell, Aaron Smith, Renee Smith, Anjali Smith, DJ Smith, Zachary Smith, Mark Knudson, Marge Knudson, Leighann Knudson, Ava Knudson, Gabe Gammill, Jay McClanathan, Scott Ruete, and Dennis Pekoff.
The following individuals and companies supported the project by giving to NAFCA to defray the costs incurred in this and future projects. Silver sponsors: Garry Larson, of Larson and Larson Builders in Love's Park, Illinois, and Diann and Terry Dempsey, of Dempsey Management, in Grayson, Georgia. Gold sponsors included: Hampden Fence, of Agawam, Massachusetts,Vogel Tool & Die, of Addison, Illinois, and Platinum sponsor, Log Cabin Fence, of Amity, Pennsylvania.