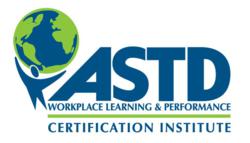 Alexandria, VA (PRWEB) February 26, 2013
The ASTD Certification Institute (ASTD CI) announces that Shannon Carter, Executive Director and CEO of the Competency & Credentialing Institute (CCI), will serve as the 2013 Chair of its Board of Directors. The ASTD Certification Institute is an affiliate of the American Society for Training & Development (ASTD) whose purpose is to set professional industry standards for the training and development profession. Ms. Carter joined the board in 2011.
Ms. Carter has served at the CCI for more than 13 years and prior to that time was the Strategic Planning Director for the American Association of Critical-Care Nurses. She holds an M.A. in Human Resources and Organizational Development from the University of San Francisco.
ASTD CI also welcomes Dale Cyr to the board of directors. Cyr is the CEO and Executive Director of the American Registry for Diagnostic Medical Sonography (ARDMS), a nonprofit organization that administers examinations and awards credentials in the medical ultrasound profession. He will serve a three year term.
Returning board members include

Constance Filling, Chief Education Officer, American Academy of Orthopaedic Surgeons
Sharon Rice, Executive Vice President, Professional Development, APICS – The Association for Operations Management
Thomas Robinson, Managing Director, Education, CFA Institute.
About ASTD and the ASTD Certification Institute
ASTD is the world's largest association dedicated to training and development professionals. To support members' ongoing development in the field, ASTD formed the ASTD Certification Institute to take the lead in setting professional industry standards and to certify training and development professionals through credentialing. ASTD CI administers the Certified Professional in Learning and Performance® (CPLP®) certification program and has awarded the CPLP designation to training and development professionals since 2006.