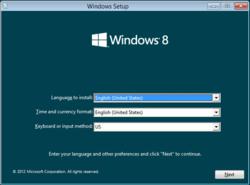 Windows 8 migration solutions from Bay Area Systems (www.bayareasystems.com)
San Francisco, CA (PRWEB) February 12, 2013
Bay Area Systems providing small businesses with Windows 8 migration solutions in February 2013.
BayArea Systems (http://www.BayAreaSystems.com), premier Information Technology (IT) consulting provider in San Francisco Bay Area, is on the forefront of providing cost-effective IT outsourcing solutions for small businesses.
Starting February 15, 2013, BayArea Systems is providing small business owners in the San Francisco Bay Area with the latest Windows 8 upgrade and migration solutions.
Microsoft released their latest Windows 8 Operating System on October 26, 2012.  BayArea Systems have been actively involved in beta-testing, release candidate testing of this new and advanced Operating System from Microsoft.  Windows 8 brings many new features such as integration of SkyDrive cloud services, which allows users to save files to SkyDrive, create folders to organize files, and synchronize documents, photos, and Favorites across devices; Metro apps that can open files from and save to SkyDrive; the Windows Store, and also includes Internet Explorer 10. Hardware features include the ability to run Windows 8 entirely off a USB key. BayArea Systems have been at the forefront of testing Windows 8, and is providing expertise, advice, and consultation on upgrades and migration of workstations from previous Windows platform.
For small business owners, computers and applications are most often mission critical to the business operation, accounting, and communications needs. Each major upgrade or migration must be carefully and thoroughly planned out, with questions such as whether the existing application will function on the new operating system, how sharp is the learning curve on the user interface and operation, how to quickly get working with the basic functions, whether the new operating system will integrate with current networking environment and servers, and sometimes how to customize items to make operations look familiar with customer's previous setup. In addition, critical communication components also include VPN client software, remote desktop connectivity, security such as anti-virus and anti-spyware, all need to be addressed and considered before a company-wide deployment.
Bay Area Systems have fully tested and deployed Windows 8 solutions to solve customers' growing needs for new, powerful, advanced computing systems both on laptops and desktop workstations. BayArea Systems will provide careful and thorough analysis of customer's current information technology (IT) infrastructure, generate roadmap to migration, and point out potential issues and/or obstacles.
The combination of cutting-edge, professional services of Bay Area Systems, along with experience and knowledge of most current as well as previous Windows operating systems, including the latest Windows Server 2012 operating systems, provide our customers with a powerful tool in keeping office computing infrastructure in top shape, with smooth interaction both inside and outside the office, secure access to critical office data, and ease of transition into the latest and greatest technology, which directly translate into increased productivity, greater efficiency and effectiveness in communicating with colleagues and clients, and provide a positive experience and return on investment.
Microsoft Corporation is a multinational computer technology corporation that developed the Windows 8 operating system, the latest in a series of Windows line of operating systems.
For almost a decade, Bay Area Systems has provided cost-effective computer systems and network support and services to small businesses all around the San Francisco Bay Area. Bay Area Systems LLC has become a pioneer in providing customized technology solutions that are efficient, cost-effective, and improve bottom line of small businesses. BayArea Systems' business model is based on their passion to provide the best customer service experience in the industry, and building long-term business relationship with their customers.