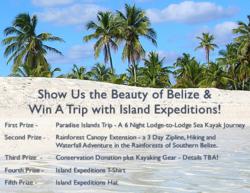 We've always been fascinated by the photos of Belize that our guests have shared with us. We want to see more - then share these special moments with the world.

Leif Sverre,
Island Expeditions Director
Dangriga, Belize (PRWEB) January 31, 2013
Island Expeditions, Belize travel specialists, are excited to announce the launch of their 'Share the Beauty of Belize' Facebook Photo Sharing Contest. The photo contest runs from February 1-April 1, 2013, and Island Expeditions is encouraging anyone that has traveled to Belize to enter and share their favorite Belize travel images. The grand prize is a six night lodge-to-lodge sea kayaking Paradise Islands Belize vacation (value $1749).
Entrants post their favorite Belize travel photo on Island Expeditions' Facebook page.
Next, entrants share it with their Facebook friends and ask them to vote for their entry..then share it with their friends. The images with the top five number of 'votes' become finalists, and will be judged to win one of five prizes. Visit the Island Expeditions blog for more details about the contest including eligibility, prizes, and judging. Winners will be published in Island Expeditions April 2013 newsletter, on their Blog, and will be announced through their Facebook page.
First prize is Island Expeditions' Paradise Island Belize vacation, a 6 night lodge-to-lodge sea kayaking journey in the Southwater Caye Coral Reserve. This unique lodge-based adventure on the Barrier Reef travels from island to island, providing guests with lots of adventure and great snorkeling while getting a chance to visit some of the smaller lesser known lodges in Belize.
Second prize is Island Expeditions' brand new Rainforest Canopy Extension, a three day zip-line, hiking and waterfall adventure in the rainforests of Southern Belize (value $539). Guests stay at a true eco-lodge set deep in the jungle, and explore the spectacular, lesser-travelled wilderness of Bocawina Rainforest Reserve.
For more information about trips and to request a free copy of Island Expeditions' 36 page Belize and Yucatan Adventure guide visit islandexpeditions.com or call 1.800.667.1630.
About Island Expeditions - Leading the way to adventure for 27 years
Island Expeditions specializes in Belize and Yucatan adventure travel, offering small group trips to special places where few others travellers go...remote coral reefs, tropical rainforests and rich indigenous cultures. Trips provide skilled instruction in outdoor activities, as well as fun, learning and genuine interaction with the local people. No experience is necessary and trips are suitable for all levels. Island Expeditions is committed to responsible tourism, conservation and local education, supporting the Belize Zoo, Belize Audubon Society and local conservation initiatives. For student groups, Island Expeditions has been offering specialized programs for high schools, colleges and universities for over 20 years.
National Geographic Adventure Magazine rated Island Expeditions as one of the 'Best Travel Companies on Earth'